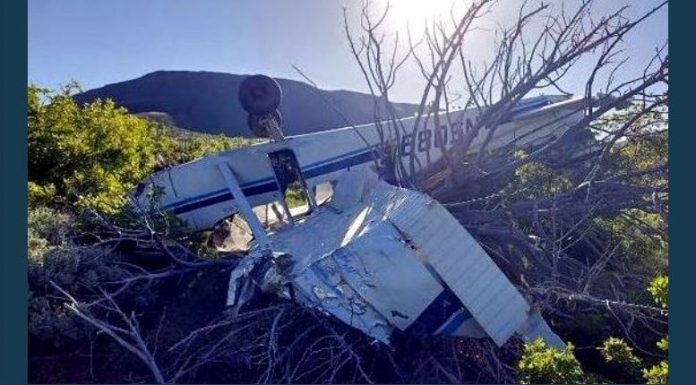 WASHINGTON COUNTY, Utah, May 29, 2023 (Gephardt Daily) — The pilot of a small plane that crashed Sunday in Washington County refused treatment for minor injuries, and left the scene in a private vehicle before deputies arrived.
The first information about the crash came to dispatch at 4:42 p.m.
"Washington County Dispatch received a call that an aircraft had crashed southwest of Enterprise, Utah," says a statement issued Monday by the Washington County Sheriff's Office. "The crash was confirmed by a Telematic Alarm crash notification in the same area.
"A Search and Rescue team, Airlife out of Cedar City, DPS helicopter Star 9, Enterprise Fire and Rescue, and Washington County deputies were dispatched to the scene. Enterprise Fire and Rescue were first to arrive. Enterprise Fire confirmed there was only one occupant and that the pilot had no serious injuries.
"The pilot refused any medical attention and did not stay on scene for deputies to arrive," the WCSO statement says. "The pilot left in a private vehicle. It was reported the plane had taken off from a private airstrip approximately three miles away from the crash site, and while attempting to gain altitude caught a down draft and crashed upside down."
There were no fluid leaks or fire, and no danger to the public, the statement says.
"All follow-up investigations will be conducted by the FAA at their discretion."