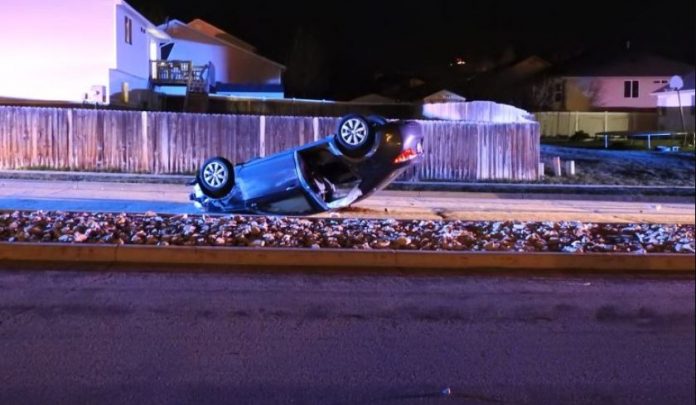 WEST VALLEY CITY, Utah, April 14, 2018 (Gephardt Daily) — A woman was transported to an area hospital Saturday morning after she says a chance encounter led to a high-speed pursuit with a stranger who targeted her, and forced her car to strike a large boulder and flip.
The exchange started at about 2 a.m. at Lodestone Park, at 6252 W. 6200 South, Kearns, when the woman and a man in the same car, a silver Toyota Corolla, noticed a man in a nearby red SUV was acting suspiciously, as if he intended to target them in some way.
"They were just hanging out," Lt. Mike Fossmo, West Valley Police Department, told Gephardt Daily.
"Apparently, what they're describing as a red SUV — possibly an old model Jeep — was acting strangely, and they got kind of spooked, so they tried to leave the park."
That's when the red SUV tried to block their exit, the two told police officers later.
"Eventually, they were able to get out of the parking lot," Fossmo said. "This guy was chasing them, and they were trying to call police. Ultimately, they ended up over there, at 6188 W. Lionel St., and that car — the red SUV — either pulled up alongside them very close or rear-ended them. That's what officers think, from the skid marks. They believe that forced them onto that median out there, and they hit a boulder and it rolled."
The woman was transported for minor injuries, and the male was uninjured, Fossmo said. Officers were examining the roadway skid marks, which were black and long. Car parts littered the scene.
The red SUV left the scene.
"The suspect is in the wind," Fossmo said. "We don't really have anything to go on here. She thought he was maybe Polynesian or a darker-skinned male.
"It's an interesting event, that's for sure."