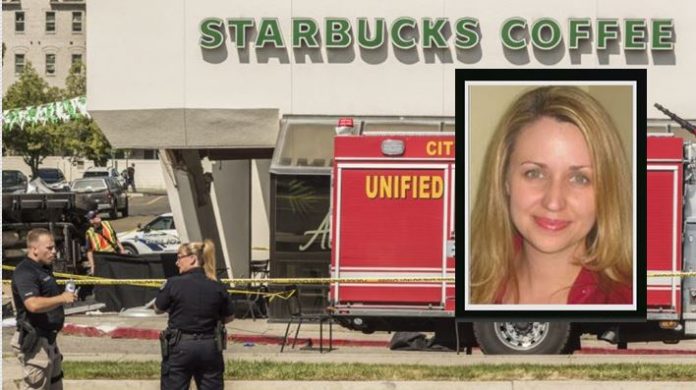 For an updated story, click here.
MILLCREEK, Utah, June 9, 2018 (Gephardt Daily) — Unified Police officials have identified the driver of a truck that crashed into a Millcreek Starbucks Friday morning, killing one patrol and critically injuring others.
The man behind the wheel was 34-year-old West Walker, of Oakley, Utah. No charges have yet been filed in the case.
Police are investigating whether a medical issue may have led to his losing control of his truck, which was carrying his two children as passengers.
The victim killed was Joslyn Nicole Spilsbury, 48, of Salt Lake City.
Spilsbury was a mental health counselor in private practice in Salt Lake County. She had more than 20 years of experience in her field.
According to her LinkedIn profile, Spilsbury treated teens and adults for issues including grief, trauma, anxiety and disabilities. She was an advocate for the LGBTQ community, her profile states.
According to reports, Spilsbury was the mother of a young daughter.
Spilsbury was sitting with at least two other people at a Starbucks table outside the business, located at 4744 S. Highland Drive, when a speeding truck jumped the curb at 9:16 a.m.
Spilsbury suffered fatal injuries, and other people at the table or nearby were struck, but survived, several of them suffering critical injuries. Among those injured to an unknown degree were Walker and his two children.
"We have information that a truck driving on Highland at a high rate of speed went over the curb, and went into Starbucks," said Rosie Rivera, Salt Lake County Sheriff, at the scene. "One person is deceased. The truck driver was just extricated. It doesn't look like it was intentional."