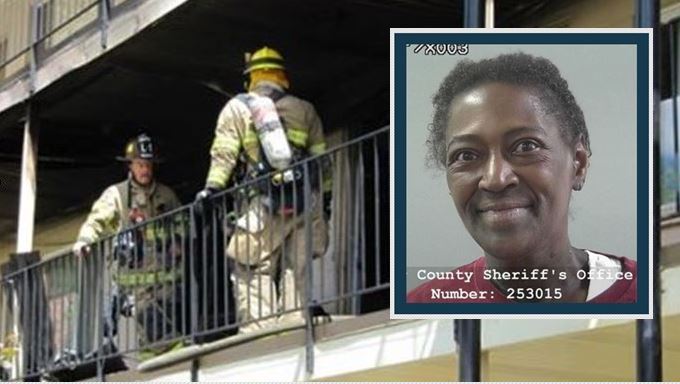 OGDEN, Utah, May 8, 2018 (Gephardt Daily) — A burn victim critically injured in a May 1 arson fire in Ogden has died after being removed from life support.
Dennis Singleton, 66, died Friday, according to officials from the Ogden Police Department.
Kristilynn Thompson, 56, was booked into the Weber County Jail after she admitted to starting the fire after Singleton, with whom she shared an apartment, locked her out of the residence.
Weber County officials are now considering homicide charges against Thompson.
Firefighters responded to the scene of the Towne Apartments, at 2638 Adams Ave., Ogden, after being dispatched at about 1:18 p.m. on May 1.
"Upon arrival, they found a unit consumed and neighbors pointing to a female later identified as Kristilynn Thompson," the probable cause statement says.
"When officers made contact with Kristilynn initially, they discovered a pipe which they recognized as the type commonly used for the consumption of methamphetamine in her hand."
Thompson was taken into custody and advised of her Miranda rights, the statement says.
"At this point, she advised that she had intentionally set the fire. Kristilyn advised that D.S., her domestic partner, had presumably locked her out of the apartment. Several witnesses on scene advised that they had observed Kristilynn kick in the window of the apartment and then the fire started."
Singleton was extracted from the burning apartment by firefighters, and he was transported to a hospital in critical condition, the statement says.
Thompson was taken to the Ogden Police Department to be interviewed, and again stated she understood her rights, the probable cause statement says.
"During the interview, she stated she had lit a blanket on fire through the window, which in turn ignited the sofa, and eventually engulfed the apartment. The preliminary investigation by OFD Fire Marshals showed that Kristilynn's account of the incident was consistent with the evidence observed on the scene."
Thompson was charged with aggravated arson, a first-degree felony, and with use or possession of drug paraphernalia, a class B misdemeanor.
Six of 18 units in the Towne Apartments were damaged in the fire. One other apartment resident also was transported to the hospital in unknown condition.