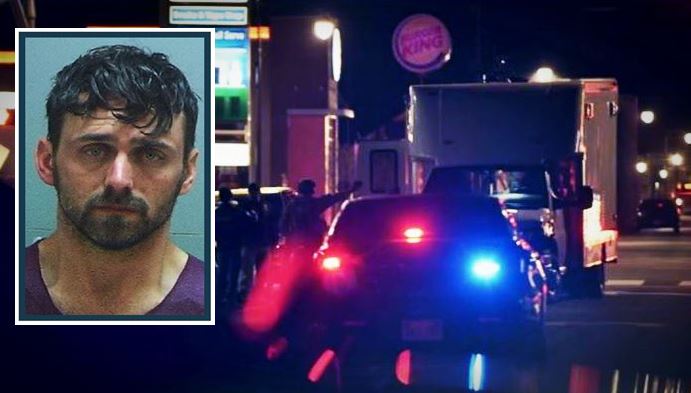 MAGNA, Utah, April 17, 2019 (Gephardt Daily) — Police have identified the man they say held police at bay overnight, firing shots in the bathroom of a Magna Burger King and refusing to surrender to SWAT officials for about six hours.
The man taken into custody is Joshua B. Williams, 36. Williams was booked into the Salt Lake County Jail on Wednesday on suspicion of:
Thirty counts of felony discharge of a firearm, a third-degree felony
Transaction of a dangerous weapon by a class 1 restricted person, a third-degree felony
Three counts of aggravated assault threat with a show of force/violence — injury, a third-degree felony
Williams is a convicted felon with a criminal history in both Utah and Missouri, a probable cause statement says, and was on parole in Utah at the time of his arrest.
Williams was also being sought by the Cottonwood Heights Police Department in connection with a Friday incident including alleged unlawful entry into a residence and unlawful detention and discharge of a firearm in a residence, offenses that were reported by his grandmother.
Late Tuesday night, UPD officers responded to the Magna Burger King, at 8443 W. Main St., after the business' manager reported a suspicious male in the bathroom who refused to leave, the probable cause statement says.
"Unified Police Officer's responded. They made contact with Williams, who had locked himself in the bathroom. As police attempted entry into the bathroom, Williams brandished a firearm in their direction. Officers backed out of the situation."
Police evacuated the fast food restaurant and surrounding businesses.
"Several shots were fired by Williams from the bathroom," the statement says. "SWAT officers were called to the scene. As they approached the business, Williams fired several more shots."
Williams was taken into custody by SWAT officers about six hours later.
"Post Miranda, Joshua Williams admitted to possessing a firearm and firing shots from this weapon while in a bathroom at the Burger King," the statement says, "… because he believed the 'cartel' was after him."
Detective Kevin Mallory, Unified Police Department, told Gephardt Daily at the scene that officers were dispatched at about 11 p.m. Tuesday after Williams had been in the bathroom for about an hour.
The suspect, later identified as Williams, refused to surrender.
"We tried to open up negotiations with him, tried to get him on the phone to talk, we tried loudspeakers, tried a robot, and a couple other avenues," Mallory said Wednesday morning.
Pepper gas was also tried, unsuccessfully.
As the morning wore on, SWAT officers used an explosive charge to breach the restroom door. At approximately 5:20 a.m., Williams surrendered and was taken into custody.
Williams is being held without bail.
A video of some of the response follows below. Beneath that is a gallery with more photos.
Magna Burger King Standoff