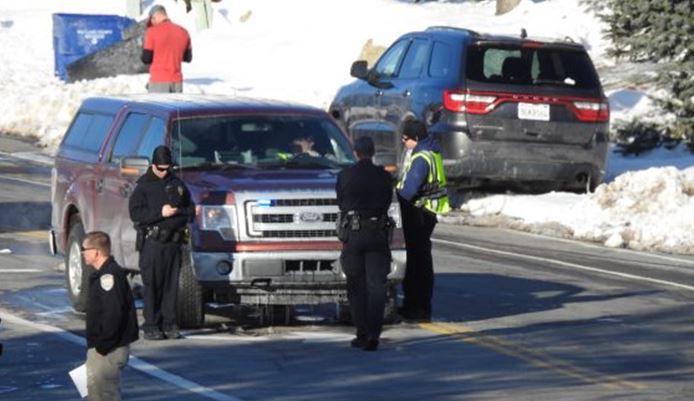 SANDY, Utah, Feb. 7, 2019 (Gephardt Daily) — Sandy police have released the name of a man who died in an auto-pedestrian accident Thursday afternoon.
The victim was Fernando Cruz La Vana, of Sandy.
Lt. Dean Carriger, Sandy Police Department, told Gephardt Daily that the accident happened at about 12:40 p.m. Thursday at 10040 S. Wasatch Blvd. at a four-way intersection with a marked crosswalk.
"We had a 68-year-old male driving a Toyota Camry southbound on Wasatch Boulevard, and a 44-year-old male, who has been identified as Fernando Cruz La Vana. They were both residents of Sandy City. Mr. La Vana was crossing Wasatch Boulevard in the crosswalk when he was struck by the Toyota Camry. Unfortunately, Mr. La Vana died on scene as a result of his injuries."
Investigators remained on the scene as of 5 p.m., and expected to reopen the roadway at about 6 p.m.
"We have a team of investigators on scene that are currently collecting evidence to determine the cause and contributing factors to this accident," Carriger said. "Initially, it is not suspected that the driver suffered from any impairment. That will continually be reviewed during the investigation."
The official findings won't be available for several days, Carriger said, and those results will determine what action is taken regarding the Camry driver.
The driver was alone in the car, Carriger said, and after he hit La Vana, the car continued and hit a light pole and other stationary objects.
Carriger urged those walking in heavy traffic, even at marked intersections, to "take some responsibility before entering the roadway, even if you have the right to do so," and "to make sure the approaching motorists see you."
The Sandy City Police Department posted condolences on Twitter.
"Our hearts go out to the family," a statement says. "The investigation is ongoing."