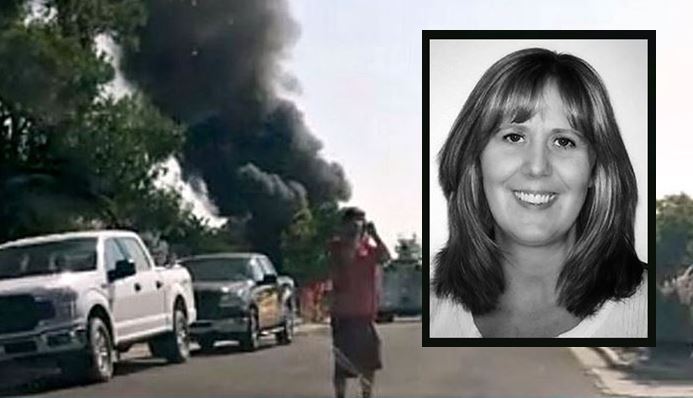 * For an updated story, click here.
WEST VALLEY CITY, Utah, Aug. 9, 2018 (Gephardt Daily) — A spokesman for West Valley City has identified the female city employee killed on the job Thursday morning.
The victim was Jill Robinson, 52, a code enforcement officer who typically worked with city residents who had messy yards or abandoned vehicles on their property. Her job was to help bring them into code compliance.
"It's a very sad day in West Valley City," said WVC Councilman Steve Buhler, who is mayor pro tem. "We lost one of our own … She was just out here doing her job today. We are sorry to lose her. It was a tragedy for all involved."
Police and firefighters were summoned to the scene at about 10:20 a.m. after reports of a burning vehicle and of shots fired.
Robinson was found on the ground, deceased, in close proximity to her burning city work truck and a nearby residence that was also fully engulfed.
Standing near Robinson's body was a 64-year-old man, whose house, at 4112 Wendy Ave., Robinson had reportedly visited on previous occasions for her job.
The house that was set on fire at 4102 Wendy Ave. belonged to a neighbor.
The man was surrounded by armed officers and taken into custody. His name will be released once he is formally booked into jail, WVC officials said.
Buhler said he did not know Robinson personally, but those who worked with her said she "had a great smile and a great way of interacting with people as she did her job," he said. The beloved mother, grandmother and aunt was also "a great softball enthusiast," he said.
West Valley City also released a statement on Twitter:
"We are shocked and heartbroken by the death of code enforcement officer Jill Robinson. Jill worked for WVC for more than 10 years, and was a trusted colleague, a loving aunt, a proud mother, and a doting grandmother."