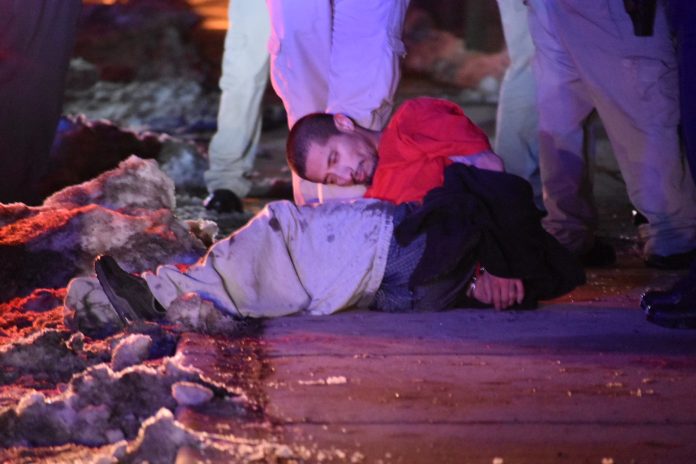 WEST VALLEY CITY, Utah, Jan. 22, 2017 (Gephardt Daily) — Late Sunday evening, a wanted fugitive with a long criminal history was tracked down and arrested by West Valley City Police.
WVC Police Lt. Robert Hamilton told Gephardt Daily that officers had the man under surveillance, and when he left his residence in a vehicle, they turned on their lights and sirens and attempted to make a traffic stop. The fugitive fled and led police on a brief chase.
Anticipating that the man would flee, police had already deployed spike strips in the area, and the man was forced to pull over after his tires were spiked near 2050 W. 3100 South.
He then fled on foot, but didn't get far.
Hamilton said that, with the help of Unified Police and West Valley Police K-9s, the fugitive was quickly located, hiding in a carport near where his vehicle was stopped.
"He refused to come out and made threats about having an explosive device," Hamilton said. "They sent a dog in, and the dog bit him and brought him out."
Hamilton credited the heavy police presence with locking down the area very quickly and being able to safely conduct a search.
He described the man, a fugitive from Adult Probation and Parole, as having "a long criminal history…pretty violent" and with several warrants for his arrest.
The man also had a passenger in the car, whom police believe to be his girlfriend. Hamilton said she remained in the vehicle and was cooperative. The car is not believed to be stolen.
The man is being taken to a hospital to have his dog-bites evaluated, Hamilton said. Police will notify AP&P that he has been found, and he will be booked into jail.
Hamilton said AP&P is always out looking for absconders, but they don't have the manpower to track down every one, so the police are often called upon to lend their help.
AP&P fugitive arrested in West Valley City