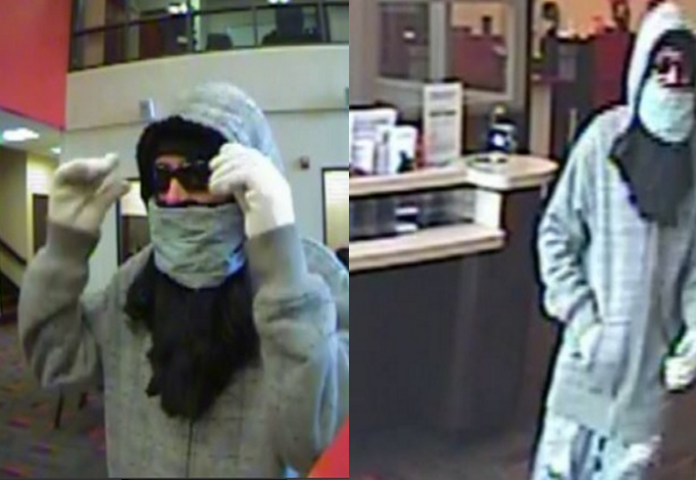 MIDVALE, UTAH – November 7, 2015 (Gephardt Daily) – Police are looking for a suspect who they think carried out three bank robberies Friday afternoon all with similar characteristics.
According to Unified Police spokesman Lt. Lex Bell, a man walked into the Key Bank located at 924 East Fort Union at 2:51 pm. and handed the teller a note demanding cash.
Lt. Bell said the suspect then left the bank on foot, after losing one of his shoes.
He is described as a white male in his 20's, 5 foot 5 inches tall with a thin build, wearing blue jeans that are scraggly looking at the front, a gray hoodie, black sunglasses, white knit gloves, a dark bandana and a fake long black beard.
No weapon was used in the robbery.
Just under an hour later, at 3:48 p.m., a suspect entered another Key Bank at 4025 South Wasatch Blvd. He similarly did not use a weapon and ran from the scene on foot.
Witnesses described this suspect as a white male in his mid 30's, thin build, a black hoodie with a white logo on front, a fake black mustache, black sunglasses, blue jeans and a baseball cap under the hood.
The clerks complied in both cases and gave the suspect an undisclosed amount of cash.
"Right now we feel like they may be related," said Lt. Bell. "We are fairly confident that the person who carried out the robbery in Midvale was the same as carried out the robbery in Millcreek. If you see him, be a good witness and give us information we can follow up on.
"We are definitely interested in getting him off the streets as soon as possible."
Salt Lake City Police Department said at approximately 4:50 p.m. Friday a man entered the Key Bank at 1500 S. Foothill Drive, approached the teller and demanded money. The teller complied and the robber exited the bank and fled westbound on foot. No weapon was seen.
That suspect was described as light skinned, approximately 5 foot 6 inches tall with a medium build.
Police said in a statement: "The bank robbery was the third such robbery in the county this afternoon, all about an hour apart. A disguised or masked suspect was a factor in all three. In view of the timing and similarities of the robberies, law enforcement agencies are working collaboratively on the three incidents."
The public is being advised not to approach the suspect or suspects.
If anyone has information as to the identity of the suspect in the Midvale or Millcreek robberies they are asked to call the UPD Violent Crimes Unit at 385-468-9814.
Anyone who has information about the Foothill Drive robbery should call SLCPD on 801- 799-3000. Anonymous tips may be sent by text to 274637.