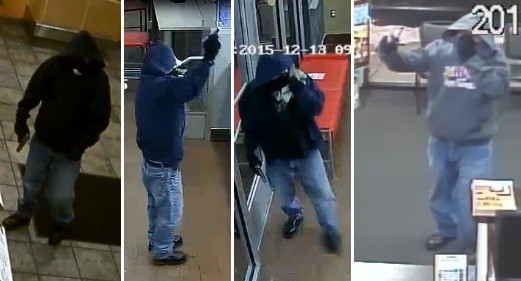 WASATCH FRONT, Utah, Jan. 12, 2016 (Gephardt Daily) — Law enforcement agencies across the Wasatch Front are seeking help in identifying a suspect believed to be responsible for seven armed robberies in the past month.
According to Weber County Sheriff Lt. Lane Findlay, the suspect enters the businesses, brandishes a silver and black semi-automatic handgun, threatens the clerks and demands money. No shots have been fired in any of the robberies.
Findlay said all of the robberies have been committed in the evening hours, and each time the suspect has made off with a small amount of cash.
The suspect is believed to be connected to seven robberies beginning Dec. 9 at a Radio Shack in Ogden. Other business robbed are Jamba Juice on Dec. 12 in Riverdale, Domino's Pizza on Dec. 13 in Farr West, Boost Mobile on Dec. 15 in Ogden, Rue 21 on Dec. 22 in Clinton, Family Dollar on Jan. 4 in Taylorsville and Menchie's on Jan. 7 in Centerville.
The suspect is described as a Hispanic male with light skin. He is 25 to 40 years old, 5-feet-2-inches to 5-feet-6 inches tall, with a stocky build. His attire has varied, but in several of the photos he was wearing blue jeans, a dark-colored hoodie and a T-shirt or black mask to cover his face.
Police believe the suspect is driving a dark-colored, older-model, 4-door sedan.
The suspect is considered armed and dangerous.
Anyone with information regarding the robberies or the suspect's identity is asked to contact the Weber Consolidated Dispatch Center at 801-629-8221 or the Weber County Sheriff's Office Investigations Bureau at 801-778-6631.