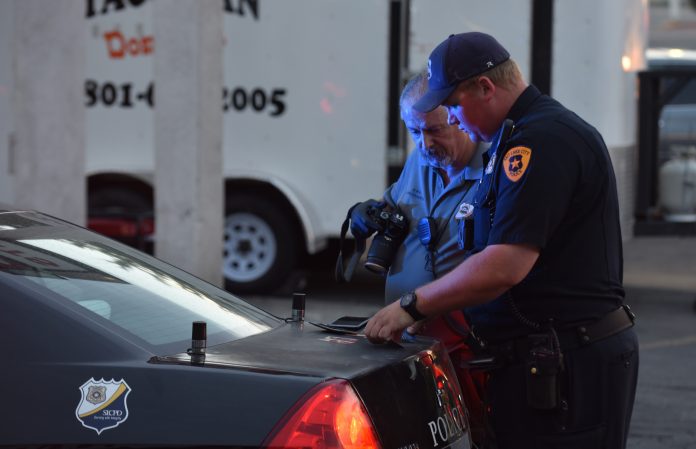 SALT LAKE CITY, Utah, July 24, 2018 (Gephardt Daily) — A 21-year-old man was jailed Tuesday night after police say he rammed a car, assaulted its occupants, and then fled from officers in a wild pursuit through downtown Salt Lake City.
Salt Lake City Police Lt. Russ Amott said the incident started near 500 North and Redwood Road at about 8:10 p.m.
The suspect saw a man he thought was involved with his girlfriend, and he deliberately crashed into the man's vehicle.
He then brandished a kitchen knife and threatened the victim and his 11-year-old son, who was in the car with him, according to police.
"The victim had no idea what was going on," Amott told Gephardt Daily. "When our officer got there, he saw the suspect ram the man's vehicle — and the suspect saw the officer and took off."
The police followed, and in the course of the pursuit, the suspect blew through a stop sign and ran a red light at speeds between 45 and 50 miles an hour.
He made it to the Rancho Market parking lot near 140 North Temple and 900 West, where the officers terminated the pursuit for the safety of the public.
The suspect bailed out of his vehicle and fled on foot, while police set up a containment area and shut down nearby pedestrian traffic.
At 8:24 p.m., about 14 minutes after the whole incident began, police located the suspect in the alleyway near Rancho Market.
"He was hiding behind a Dumpster," Amott said. "It's amazing no one was injured in this incident. There were no injuries."
The suspect was taken into custody and is facing charges of:
Two counts of aggravated assault, for going after the man and his son with a knife
Fleeing from police in a vehicle
Fleeing from police on foot
Traffic violations
Amott said the victim can also take the suspect to "civil court for damages to his vehicle and pain and suffering."