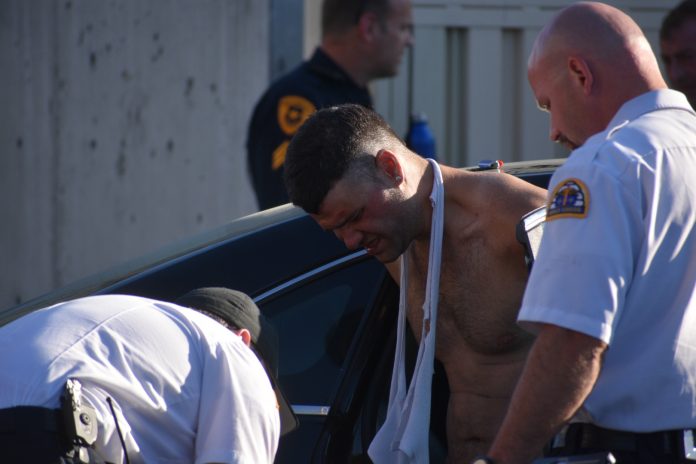 SALT LAKE CITY, Utah, Aug. 24, 2017 (Gephardt Daily) — Two men are in custody Thursday night because an off-duty police officer has a good eye for suspicious behavior.
The officer was working a part-time job patrolling a parking lot at 600 S. 200 West, Salt Lake City Police Lt. Robin Heiden said.
The officer noticed that a van had pulled up and parked far away from the Maverik gas station in that area, and the van's passenger got out and walked to the Maverik.
"(The officer) found their activity suspicious, so he approached the driver and ran the plate on the vehicle," Heiden said.
He was talking with the driver when the information on the license plate came back showing the vehicle was stolen.
The officer tried to take the driver into custody, but he took off running, Heiden said. The officer was able to catch up to him at one point, and a struggle ensued, with the man getting away a second time.
"He went around a corner of the Maverik and then attempted to attack the officer," Heiden said.
There was another struggle, but the officer had been able to call for help, and police who were on duty in the nearby Rio Grande area were already on their way to assist. They arrived as the officer had the suspect on the ground for a third time.
"It took him three times to get this male into custody," Heiden said, "and at one point, he was going for items on this officer's belt, so it was quite a struggle."
The man is facing charges of possession of a stolen vehicle, assault on a police officer, and attempting to disarm an officer. He also has a probation violation.
The passenger had already gone into Maverik before all the excitement started, so he probably will not be charged with anything relating to this incident, Heiden said, but he also had a probation violation, so will be heading to jail along with his friend.
Driver of stolen vehicle arrested after assaulting officer, police say