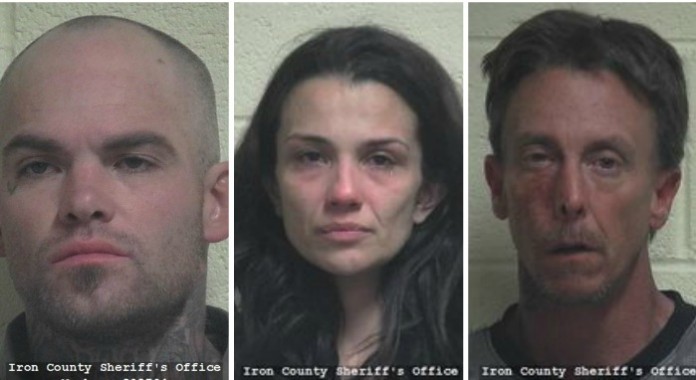 IRON COUNTY, Utah, April 5, 2016 (Gephardt Daily) — Three suspects are behind bars in Iron County after stealing a car in Las Vegas then crashing off the freeway when the driver fell asleep.
Utah Highway Patrol Lt. Steve Esplin said Jared Moss, 34, Patricia Sue Chavez, 36, and Jason Thibeault, 43, all residents of Nevada, stole a white Ford Mustang from the parking lot of a hospital in Las Vegas and drove it to Utah.
"At 3 p.m. on Wednesday, the driver (Thibeault) was near mile marker 50 when he fell asleep and went off the road, crashing the vehicle," Esplin said. "The three people then left the vehicle and got a ride to Cedar City."
Esplin said several people who witnessed the accident, including an ex-trooper, notified police after following the suspects to a business in Cedar City.
"As one of our troopers approached these individuals, one went into the Walgreens and another one turned and walked away from our trooper," Esplin said. "He was asked by the trooper to stop, but he started running. He then fell down and the trooper was able to catch up to him."
That suspect, Moss, continued to be combative until the trooper drew his taser, without using it. All three suspects were eventually taken into custody.
The trio has been booked into the Iron County Jail on multiple charges. Thibeault and Chavez have been charged with possession of a stolen vehicle, and are being held on $20,000 bail.
Moss had been charged with possession of a stolen vehicle and fleeing from the police, and faces additional charges of giving false information to an officer.
Esplin said the white Mustang was stolen while the owner was undergoing chemotherapy treatment for cancer inside the hospital.