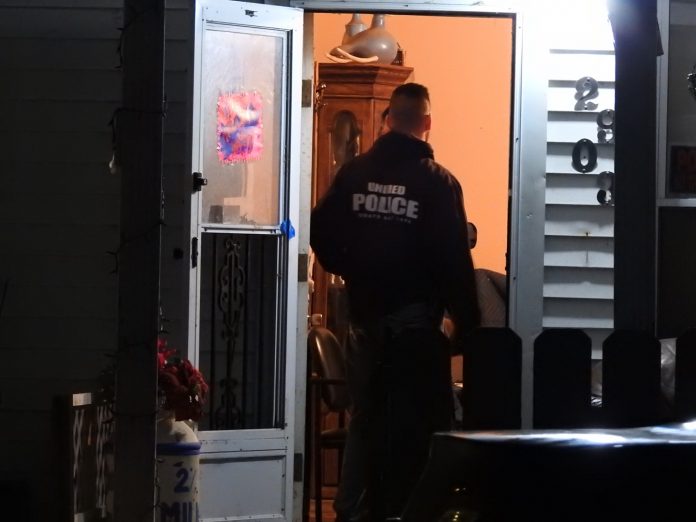 MAGNA, Utah, Nov. 30, 2017 (Gephardt Daily) — The Unified Police Department arrested nine people early Thursday morning as part of a drug bust on a Magna home.
Officers served a search warrant at a home they say is related to narcotics distribution at a Magna home in the area of 9200 W. 2900 South at approximately 3 a.m.
"This has been an ongoing investigation for our Magna detective unit," Unified Police Lt. Jason Ackerman told Gephardt Daily. "It's been related to narcotics distribution and we also had information that there were possible fugitives that were frequenting the house here. Tonight, with the assistance of our SWAT team we were able to effectively serve that warrant."
Ackerman said nine of 12 people in the home, 10 men and 2 women, were arrested, and officials safely secured the residence, then were waiting for a search warrant. The nine were booked on outstanding arrest warrants or new drug charges.
"There were several of the adults that were initially non-compliant," he added. "SWAT officers used OC material; pepper spray, to get their compliance and then they were safely taken into custody and treated medically."
No one was injured in the bust.
Police also called out animal services to assist with the incident as there were several dogs at the home.
"Everybody did a great job. A lot of teamwork, lot of effort went into this and it was ultimately a very successful operation," Ackerman said.
He said police would likely be on scene until approximately 8 a.m. The suspects were set to be interviewed then transported to county jail.
"I'm very proud of the men and women who serve the community out here in Magna," Ackerman added. "These detectives work tirelessly following up on leads and doing solid investigative work. It's always stressful when you plan these operations and you try and forecast all the potential problems and it's certainly a relief when it comes together and everybody gets to go home safe."