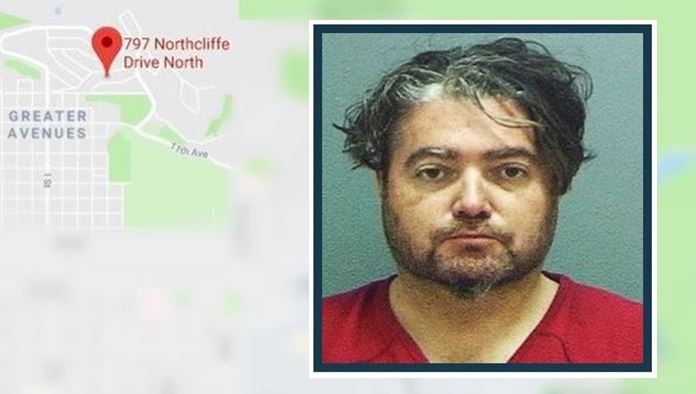 SALT LAKE CITY, Utah, March 28, 2019 (Gephardt Daily) — A Salt Lake City man was charged Thursday with the first-degree murder of Cory Glenn Haney, described by the suspect as "my best friend."
Charged in the case is Jesse Joel Bruce, who lived with Haney as his housemate and tennant. Both men were 40.
Salt Lake City police were dispatched to the scene, 797 E. Northcliff Drive, on the evening of March 21. The call was on a report of a fight.
"The door to the home was securely locked, so officers broke the glass in order to unlock the deadbolt," says a probable cause statement filed in Third District Court.
"While officers were attempting to enter the residence, a male kept screaming for help and saying 'He tried to kill me,' "I killed him,' and 'my leg is broke.'"
Following the voice, officers headed upstairs, and found a man later identified as Bruce on the floor, complaining of a fractured leg. Next to his left hand on the carpet was a knife "that appeared to have blood on it," the statement says.
"In an adjacent hallway, officers found an unconscious male lying on his back, covered in blood," the probable cause statement says. "The male, identified as Corey Haney, had a large laceration on the left side of his neck, along with numerous other lacerations to the neck. Medics confirmed that Haney was deceased at the scene."
Bruce was transported to the hospital for treatment of his broken leg. While awaiting care, Bruce told an officer that he wanted to talk to someone, the probable cause statement says.
"He (Bruce) said, ' … I'm in the fucking hospital, I just killed someone, I killed my best friend for 25 years.'"
An autopsy found Haney's cause of death to be multiple stab wounds to the neck and head, and his manner of death to be homicide.
Bruce's initial court appearance is scheduled for April 1.
● ● ●
Haney's obituary describes him as a sportsman, world traveler, cancer survivor and good friend to all:
"You know that guy who just lights up a room? That everyone wants to be around? That has a million friends, but is somehow EVERYONE's best friend too? That makes you laugh and is always there for you no matter what? He's like out of a movie because he's too cool to be real. If you're lucky, you maybe get to meet someone like that once in your life. Could anyone ever be that amazing? That was Cory Glenn Haney," the obituary says, in part.
"He lived life to the fullest during his 40 years on this earth, but was taken away on March 21, 2019. He was a world traveler, outdoorsman, entrepreneur, jokester, scholar, and leader. Above all, he was a friend."