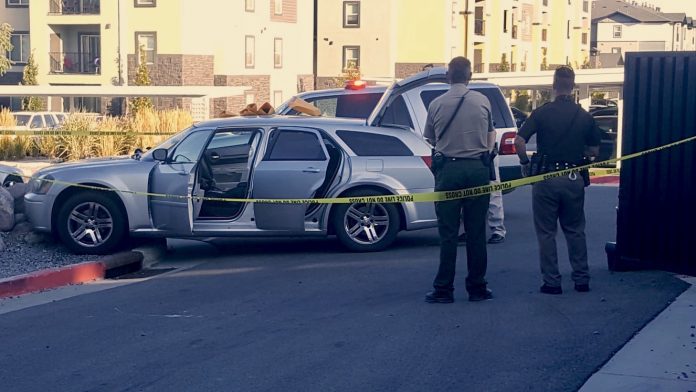 TOOELE, Utah, Oct. 15, 2019 (Gephardt Daily) — Police are searching for a suspect who fled on foot in Magna after stealing a car with a child inside in Tooele Tuesday morning.
Tooele City Police Sgt. Jeremy Hansen told Gephardt Daily a woman called dispatch at approximately 7:30 a.m. to report that her silver Dodge Magnum had been stolen, with her 10-year-old son inside.
The child was let out of the car about half a block away from where it was stolen; the child was unhurt, Hansen said.
The suspect, who is not known to the woman or the child, then drove onto Interstate 80 heading east, where he was pursued by Utah Highway Patrol officers. The suspect drove past Salt Lake City and into the Magna area, Hansen said.
He then abandoned the car in the parking lot of an apartment complex in the area of 2910 S. 8400 West and fled on foot.
Unified Police then initiated a shelter-in-place protocol at Magna Elementary and Cyprus High School while they attempted to locate the suspect in that area.
"No direct threat to our schools," said a tweet from UPD. "Precautionary to ensure student safety."
That shelter-in-place protocol went into effect at 8:45 a.m. and was lifted 20 minutes later.
The suspect is still outstanding, Hansen said. The only description officials have provided is that he is Hispanic; there's some evidence that he changed clothes before he fled on foot as clothing believed to be his was found in the vehicle. There is no direct threat to the public at this time, Hansen added.
The suspect is likely to face kidnapping charges as well as other charges related to stealing the vehicle and fleeing, Hansen said.
Gephardt Daily will have more on this developing story as information is made available.