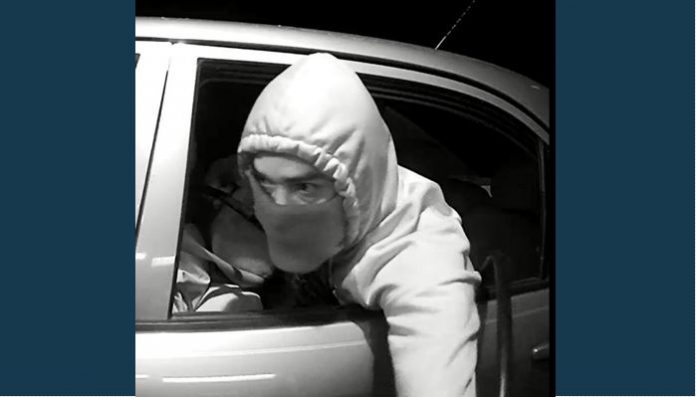 WEST JORDAN, Utah, Jan. 25, 2018 (Gephardt Daily) — The West Jordan Police Department is asking for the public's help to identify at least two suspects accused of trying to blow up an ATM machine.
The WJPD said this attempt is the third of its kind this month in which suspects have tried to blow up an ATM by exploding a propane tank.
Surveillance photos show at least two suspects, one in the driver's seat and one in the rear passenger seat. The suspects pictured are both wearing hoodies and masks. The car is red and an older model with some rust on the roof.
A Facebook post from the WJPD Thursday morning said: "It is smart to invest in retirement for later years in life. It is smart to live within your means. It is also smart to try and obtain and keep the best employment as possible to provide for yourself and others.
"It is not smart to rob and steal. It is not smart to play with fire and propane. It is really not smart to use fire and propane as an explosive to get into ATM machines. We have had another incident with these two. This is now their third attempt at taking money from an ATM machine. This time we have some awesome surveillance pics to share with you all. Please help us ID them."
The first two attempts happened earlier this month, police said.
The first incident occurred at the Goldenwest Credit Union on 5639 W. Highlands Loop (7625 South) at approximately 5 a.m. Jan. 7, West Jordan Police Department Sgt. Dan Roberts told Gephardt Daily. He said the suspect or suspects pumped propane into the ATM with a hose, and though the ATM did blow up, the section that contains the money was not compromised.
The suspect or suspects fled, likely in a vehicle, Roberts said, and were not located.
Roberts added Salt Lake City police are investigating a similar incident that also occurred Jan. 7 at approximately 11 p.m.
A suspicious circumstance was reported at the America First Credit Union, 1799 S. Pioneer Road (2700 West), officials said.
When officers arrived, a propane tank was found next to an ATM, with a hose running from the propane into the ATM, but it appears the suspect or suspects had left the area.
"We want to know who they are," the WJPD post Thursday concludes. "We want to stop them from doing this again. Someone is going to get hurt."
Anyone with information is asked to call WJPD Detective Golding at 801-256-2172, or the SLCPD at 801-799-3000.
Gephardt Daily will have more on this developing story as information becomes available.