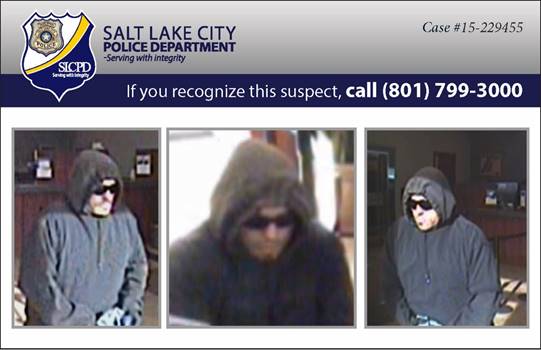 SALT LAKE CITY, Utah, Dec. 4, 2015 (Gephardt Daily) — The Salt Lake City Police Department is asking for help in identifying and locating a suspect in a bank robbery.
On Wednesday, Dec. 2, at 11:35 a.m., a man entered the Zions Bank at 787 North Redwood Road and handed the clerk a note demanding money.  The teller complied and the suspect ran on foot toward Redwood Road. No one was injured.
The suspect is described as Hispanic, about 25 years old, 5 feet 6 inches tall, with a medium build, a weathered face and wearing a worn-out black hooded sweatshirt, black cargo pants and sunglasses.
The police department asks anyone who may know the identity or location of this suspect to call 801-799-3000. Anonymous tips may be sent by text to 274637.
That same Zions Bank was robbed on Friday, October 30, just after noon. 

In that incident, officers said the suspect entered the bank and handed the clerk a note demanding cash. He was given an undisclosed amount before he ran from the bank on foot.
That suspect was described as a Caucasian adult man, around 40 years old, 6 feet 4 inches tall with a thin build and blond hair. He was wearing a gray hooded sweatshirt, a blue surgical mask, sunglasses, black gloves and carrying a small black bag.