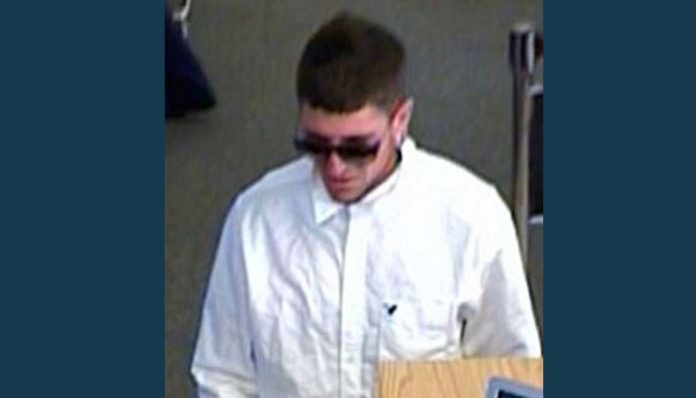 MIDVALE, Utah, Aug. 1, 2016 (Gephardt Daily) — Unified Police responded to a robbery Monday afternoon at Zions Bank, 159 W. Center St.
The male suspect entered the bank at about 2:09 p.m. and produced a note demanding cash, the UPD stated in a news release. The man was given an undisclosed amount of money and was last seen fleeing from the bank on foot to the south. No one was injured during the robbery and no weapon was seen.
The suspect was described as being in his mid-30s, 6-feet 4-inches tall, with a thin build, and brown hair and beard. He has a large tattoo on the right side of his neck and had a sticker or bandage under his left eye, which may be covering other tattoos, the release states. He was wearing a white, long-sleeve, button-up shirt, tan pants, black shoes and sunglasses.
Unified Police detectives released photos of the suspect and are asking anyone who has information as to his identity to call the UPD Violent Crimes Unit at 385-468-9819.