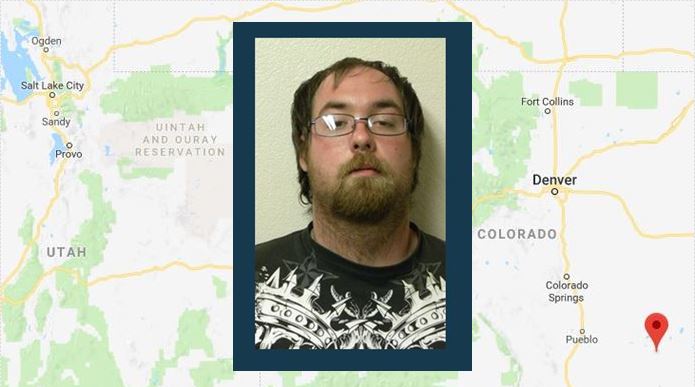 For an updated story, click here.
SALT LAKE CITY, Utah, May 9, 2018 (Gephardt Daily) — Shaun French — the subject after an intense manhunt since Salt Lake City police declared him a person of interest in the homicide of 15-year-old Baleigh Bagshaw — has been taken into custody.
The Salt Lake City Police Department announced the news at 12:30 p.m. Wednesday on Twitter.
"He was taken into custody about 11:30 in Colorado," Detective Greg Wilking, Salt Lake City Police, told Gephardt Daily.
"I don't have all the details. They will come out eventually."
Wilking said at present, the priority is getting investigators to Colorado to meet with officials and with French.
Information from the Otero County Sheriffs Office indicated that French was taken into custody there, on Highway 50. Otero County is east of Pueblo. The Sheriff's Office is located in La Junta, Colo.
Wilking said he did not yet know if French, 24, was found in the car he was believed to have fled in.
"We just want to thank the people following this for all the tips that came in," the detective said. "Those tips and some really good detective work is what got us to this point, where he is in custody. There's still a lot of work to be done."
French, previously described as a person of interest, has been upgraded to suspect, Wilking said.
"He is a suspect in the homicide of Baleigh Bagshaw. Right now, he is the only one."
SLCPD revealed earlier this week that there was a warrant for French's arrest in connection with sexual contact with a minor, who was Bagshaw. In addition, it was revealed that French formerly lived in the home with Bagshaw, but was not a resident at the time of her murder.
A Facebook post by Bagshaw also has revealed that she was afraid of French.
The murder came to light at about 3 p.m. Monday when police were sent to the scene, at 1628 W. 500 North, on a welfare check. Bagshaw was on the phone with her mother when she was attacked. Her mother called a neighbor, who summoned police.
Officials told Gephardt Daily what they found in the residence was an "obvious homicide."