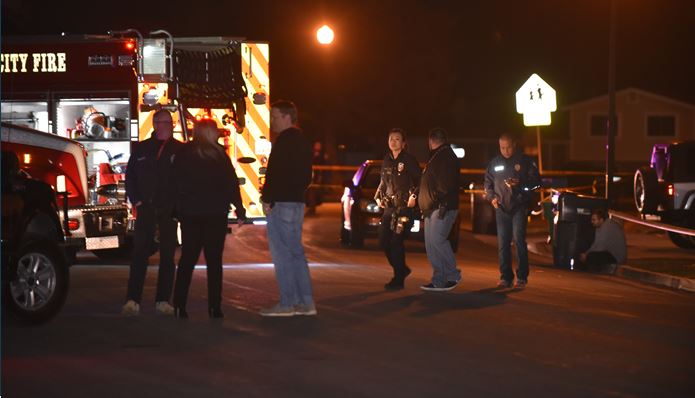 COTTONWOOD HEIGHTS, Utah, March 21, 2019 (Gephardt Daily) — One fatal crime scene led to a second one Wednesday night after police say a man wanted in a Midvale shooting homicide turned the gun on himself miles away, in Cottonwood Heights.
Unified Police officials were called to the first scene, a Maverik convenience store at 7728 S. Main St., at about 9 p.m.
"We received a call of shots fired in the area, and our officers responded very quickly," Sgt. Melody Gray, Unified Police Department, told Gephardt Daily.
"When they arrived, they found a middle-aged male in his vehicle, parked in the Maverik (parking lot), deceased from gunshot wounds."
The shooter was believed to have driven a black Jeep Wrangler, Gray said. The vehicle was caught on surveillance video, and an image was distributed, with area police asked to attempt to locate the Jeep.
Several police agencies believed they had seen the suspect vehicle, Gray said later. When Cottonwood Heights police saw the Jeep Wrangler shortly after 11 p.m., they were able to keep it in their sight.
"They engaged in a pursuit with that vehicle," Gray told reporters just before 12:30 a.m. Thursday at the second scene, near 8400 Hill Haven Lane.
"That vehicle rolled and crashed, and the driver of that vehicle is deceased from a what appears to be a gunshot wound which is self-inflicted.
"This is the vehicle that was used in that shooting, so the suspect, we anticipate, is the person that is in that vehicle."
Gray said detectives were being called to the scene to determine the exact sequence of events and collect evidence to be used in the investigation.
"We are just beginning to get people out here, detectives from other areas, to investigate," she said. Police had the gun the man used on himself, and forensic testing would determine if it was a match for the gun used in the Midvale homicide, Gray said.
"He is not a threat to the public. He is deceased, and this (crime scene evidence) should be removed before school is started," Gray said regarding the crash location, near a schoolyard.
Gray said with both men dead, it might take longer to determine a motive in the first shooting, "and what led them together."
No evidence had come to light yet to make police suspect the shooting was gang-related, Gray said from the second scene.
Unified Police have not yet released the name of either of the deceased men.
Gephardt Daily will have updates on this story as more information becomes available.