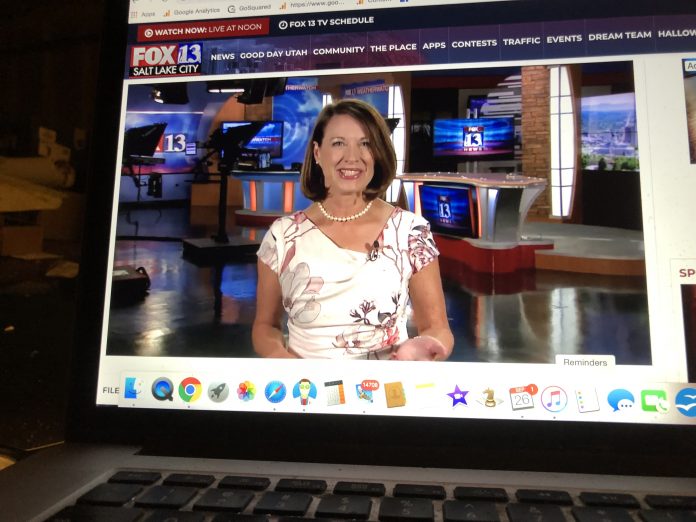 SALT LAKE CITY, Utah, Sept. 26, 2018 (Gephardt Daily) — One of the Salt Lake City's most popular TV news anchors is no longer on the air.
Hope Woodside announced her departure from FOX 13 during a 1 minute pre-recorded statement which was played on the station's 9 p.m. newscast Tuesday night.
The motivation for Woodside's departure after a record 23-year run is unclear. She had not been in the anchor chair since early August. During that time the station said she was on vacation.
In her brief farewell message Tuesday Woodside thanked her fans and colleagues, making it clear the decision to go was hers.
"As you know, I've taken some time off and thank you for all the kind words and messages of concern. I have missed you.
"But, I have a bittersweet announcement to make tonight," Woodside said. "During my time away, I've had the opportunity to reflect on my life, and I've decided it's time to leave my Fox family.
"For 23 years you've been kind enough to welcome me into your homes. It's been an honor and a privilege to serve this community and work along side some of the finest journalists for the past 35 years.
"I've decided now is the right time to step away from the newsroom. It's impossible to put into words the joy and satisfaction I've had delivering the news to you. The stories we have shared often touched me. You've seen me tear up on the air. I hope they've had an impact on you as well. I'm blessed to be a part of your life and wish you all good health and happiness.
"So, this is me, signing off for the last time. And thank you so much for watching.
"I hope to see you around town, and, if you see me, please stop and say hello."
Woodside first came to Fox 13 in 1995 when she was paired with anchorman Bob Evans on the station's 9 p.m. newscast. Their 23-year tenure makes them the longest running primetime anchor team in the Salt Lake City TV market's history.