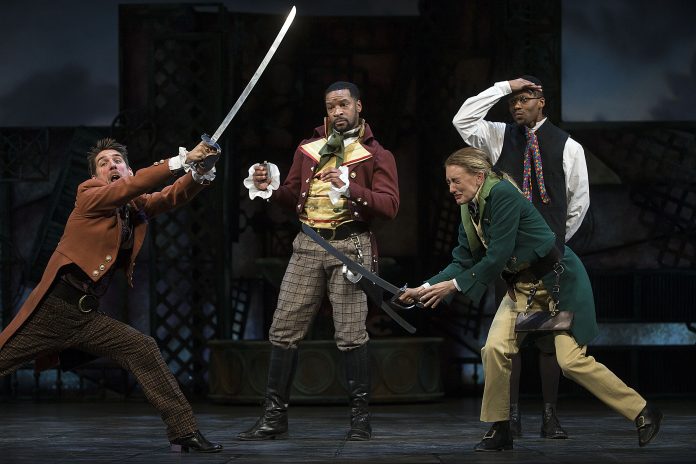 SALT LAKE CITY, Utah, April 3, 2018 (Gephardt Daily) — Did you know that "Twelfth Night" is the third most produced of Shakespeare's plays in the U.S., right behind "A Midsummer Night's Dream" at number one and "Romeo and Juliet" at number two, according to data-gathering company Priceonomics?
This makes perfect sense, as it's basically about unrequited love and mistaken identity, two mainstays of the playwright that are the hallmark of some of his most accessible plays.
I'm pretty sure I've seen "Twelfth Night" on stage more than any other of the Bard's plays — I believe this is the fifth time I've seen it; the time before was when it was produced very successfully in 2015 by the University of Utah Department of Theatre, at the Babcock Theatre, just downstairs from Simmons Pioneer Memorial Theatre.
"Twelfth Night" revolves around the physical likeness between Sebastian and his twin sister, Viola, each of whom, when separated after a shipwreck, believes the other to be dead. The theatrical scramble begins when Viola assumes the identity of Cesario, a page in the household of the Duke of Orsino.
The Duke is in love with the Countess Olivia, who rejects him for the newly arrived Cesario. Enter Sebastian, who is the spitting image of his twin sister….
The play also contains the characters of Malvolio, Sir Andrew Aguecheek and Sir Toby Belch, possibly the most well-known comedy trio in Shakespeare's works.
Each time one sees a Shakespeare play in modern times, there's always the question of whether the production will stick to the time period in which it was written or update it in a way that the director feels brings it new relevance.
This time around, director Larry Carpenter places the play in New Orleans in 1812, at the beginning of Mardi Gras. The Mardi Gras season kicks off each year on Twelfth Night, the 12th day after Christmas.
As the director's note says, "Mardi Gras celebrates the acts of abandoning oneself to revelry and of gaining perspective by looking at oneself from the outside in."
Great premise, and one I was excited by, until the production got underway. My hope was that setting the play in New Orleans would heighten the sense of revelry and vibrancy, and the gay abandon that is often present in the writing itself. There was also the opportunity to dig a little into the more spiritual side of the city. And this just didn't happen.
The vast majority of scenes were produced in a pretty conventional way, and it almost felt like the setting of New Orleans was tacked on to make the production more visually pleasing. Some of the ensemble characters wore Mardi Gras masks and either carried themed prop pieces or played instruments, but it just felt rather dry and sanitized.
I wished the cast and director could have attended Mardi Gras celebrations in New Orleans, and then made more of an attempt to capture the essence of the city and the celebration, and also done some digging to figure out how each character might have fitted in to that landscape.
As far as the scenes produced in a more traditional way, they ranged from fine to pretty funny. There were a number of performances I quite enjoyed; Grace Morrison as Viola, David Andrew Macdonald as Malvolio, Kenajuan Bentley as Sir Toby Belch, and local standout Susanna Florence as Maria. These actors seemed to have done the work to find a believable trajectory for their characters; particularly Macdonald, who as Malvolio goes on a roller coaster journey from priggish to ridiculous to victimized to vengeful.
Other performances fell flat for me. Richard E. Waits, for example, as the clown Feste, who anchors the action, just seems a little lost as to what his purpose is and why he is singing the multitude of songs he has to perform. There's a little shtick at the beginning where he's almost beatboxing, as if he's making up the songs as he goes, but this device gets tired very soon as it's just not clear why that vehicle is being used throughout. Waits ends up smiling a lot, and not a whole lot else, and I wished he and the director had made decisions about his purpose and journey that were more clear to the audience.
Other characters, including the much celebrated Olivia, played by Kelsey Rainwater, didn't feel fleshed out, and their scenes often just ended up being dull. The production runs around two-and-three-quarter hours with one intermission, and though at times I was engaged, at other times I was just a little bored.
The production elements were gorgeous — the scenic design by G.W. Mercier (he costumed the play as well) evokes the feeling of the French Quarter, enhanced by warm, evocative lighting by Kirk Bookman. It was a slightly odd decision to have recorded music that characters with musical instruments at times mimed along to — since they were ensemble characters, I'm sure actors could have been found that actually played those instruments.
All in all, I had high hopes for the production that just weren't realized. I wanted more, across the board.
"Twelfth Night" by William Shakespeare runs at Simmons Pioneer Memorial Theatre, 300 S. 1400 East in Salt Lake City through
 April 14, 2018. 
Mondays through Thursdays, 
at 7 p.m. 
Fridays and Saturdays at 
7:30 p.m. with 
Saturday matinees at 
2 p.m. Tickets are 
$25-$44 in advance, and $5 more when purchased on the day of the show.
Kids in grades K-12 are half-price on Mondays and Tuesdays. More information is available by calling the box office on 801-581-6961 or by clicking
here
.