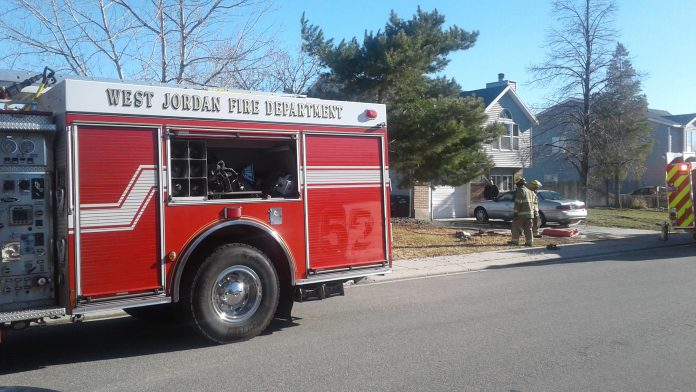 WEST JORDAN, Utah, Dec. 12, 2016 (Gephardt Daily) — A residential fire in West Jordan was knocked down quickly Monday afternoon after a resident smelled smoke and called the fire department.
"At approximately 12:18 we were called on a house fire, and we have eight units here," said battalion chief Duane Paxton, West Jordan City Fire Department, speaking at the scene, 8555 S. McKenzie Lane (4840 West).
"On arrival, there was white smoke showing out of the eaves of the house."
An interior inspection revealed the source was probably a bathroom fan motor had overheated and sent ceiling insulation on fire.
"We pulled the ceiling down, and pulled out the insulation that had caught on fire as well," Paxton said. "There's probably $5,000 to $10,000 in damage.
"Everybody got out of the house. Luckily someone was home and notice the smell of smoke, and got out. If there would have been nobody home, they probably would have lost the roof off the top of the house."
Paxton said that bathroom fans do wear out, and that flipping a breaker to check a fan that has stopped working or started making unusual noises can cause the motor to overheat.
"That heats up the wiring, and it causes the damage," he said."They'll start making a sound or they'll just stop, so it's good to have them checked. If you're getting a sound out of your bathroom fan, you need to have it replaced."