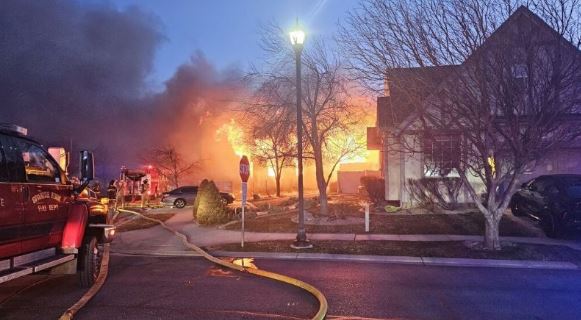 SPANISH FORK, Utah, March 29, 2023 (Gephardt Daily) — A day after a Spanish Fork house fire, police and fire officials have discovered what they believe to be the remains of the homeowner.
The discovery was made at about 3:45 p.m. Wednesday, more than 15 hours after officials were called to the scene at 6:30 a.m. Tuesday.
"Fire have been sifting through burned debris all day and around 15:45 hours today they located remains of what is believed to be the owner of the home," says an update issued Wednesday about the investigation.
"The Utah State Medical Examiner has been notified and will work to positively identify the victim of the house fire."
When arriving at the fire Tuesday, officials found a twin home, at 1239 S. 2970 East, "fully engulfed in flames, and were able to clear occupants from the adjoining home," says a Spanish Fork Police news release issued Tuesday.
"Because of the involvement of the fire, crews were not able to enter the engulfed home. "As firefighting operations continued and the fire breached the roof, the first and second floors of the building collapsed. A single elderly woman lived in the engulfed home and is still unaccounted for at this time."
Spanish Fork Fire & EMS was assisted by Mapleton, Payson, and Salem as well as Spanish Fork Police, Spanish Fork Power & Light, Central Utah 911, and Dominion Energy.
The cause of the fire is unknown and an investigation will be forthcoming with help from Santaquin City, Payson City, ATF, and Unified Fire Authority. The American Red Cross is assisting the displaced family.
One Spanish Fork firefighter was treated for heat exhaustion on scene and was later released to return to work.