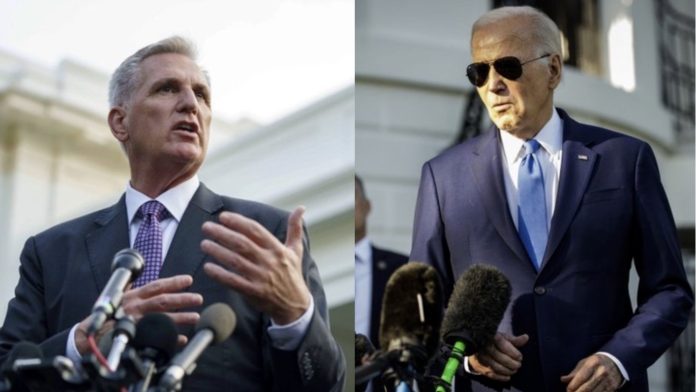 WASHINGTON, D.C., May 28, 2023 (UPI) — The administration of President Joe Biden has reached a tentative deal with Republican lawmakers to raise the debt ceiling for two years and cap spending to avert default, reports said Saturday.
The deal was reported by The New York Times, CNN and NBC News, each citing anonymous sources. Official confirmation has not yet been made.
During the negotiations, a provision that would add work requirements for some social programs was among the final hurdles to overcome, according to a source who spoke with CNN.
The deal will still need to pass in both the Republican-led U.S. House and the Democrat-led U.S. Senate, which may require stiff whipping from party leaders on both sides of the aisle.
The eleventh-hour compromise comes just days before the United States was expected to default for the first time in its history.
"Republicans are poised to deliver big, consequential change in Washington," House Speaker Kevin McCarthy said on Twitter as the news broke.
"Soon, we will vote for a responsible debt limit agreement that stops Democrats' reckless spending, claws back unspent COVID funds, blocks Biden's new tax schemes, & much, much more."
Earlier in the day, McCarthy said he was hopeful of reaching a deal to raise the U.S. debt ceiling and avoid a catastrophic default.
After arriving at the U.S. Capitol early in the day, McCarthy told reporters that although no deal had yet been reached with the Biden administration, he believed the two sides are "closer to an agreement now" than previously.
"I see progress. But listen, this is not easy in any shape or form," McCarthy had said.

When he was asked later in the morning if a deal could be reached on Saturday, he said he was waiting on a return phone call from the White House. McCarthy and Biden, who is spending the Memorial Day long weekend at Camp David, reportedly spoke for over an hour Saturday evening.
He also vowed that Congress will reach an agreement before the new deadline or so-called X date, when the United States runs out of money to pay its bills.
The House and Senate are technically on a week-long break for the long weekend, which started Thursday.
House Republicans, who hold a majority, have insisted on federal spending cuts of approximately $4.8 trillion over the next decade in exchange for agreeing to a proposed $1.5 trillion increase to the debt limit.
Biden and the Democrat-led Senate want a debt ceiling increase absent of any preconditions.
"Everybody won't like what is the end of the agreement…on both sides," McCarthy said Saturday.
"But…at the end of the day I think people should see what that product is before people vote on it."
He also reiterated his 72-hour pledge to give legislators a full three days to read any drafted agreement before voting on whether or not to approve it.
The deadline to reach a deal before defaulting is not set in stone.
Treasury Secretary Janet Yellen sent a letter to Congress Friday saying the government will now have until June 5 before it runs out of money to pay its bills rather than her previously-announced June 1 deadline.
"Based on the most recent available data, we now estimate that Treasury will have insufficient resources to satisfy the government's obligations if Congress has not raised or suspended the debt limit by June 5," Yellen said in the letter.