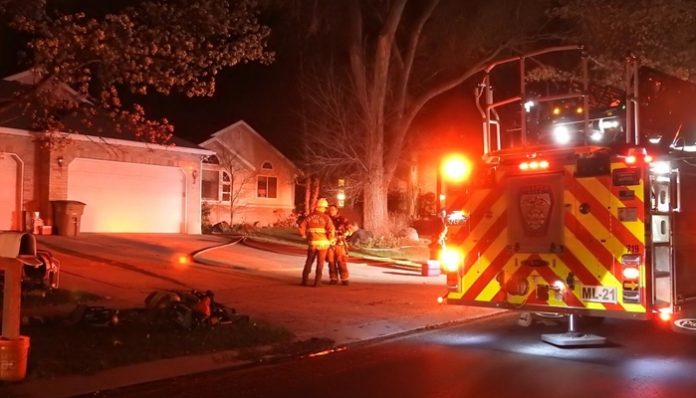 DRAPER, Utah, April 11, 2019 (Gephardt Daily) — Some 30 firefighters battled a Draper house fire that caused approximately $20,000 in damages.
The incident occurred in the area of 13239 S. Bear Hollow Drive (1190 East) and was first reported just before 8:15 p.m. Thursday.
Bart Vawdrey, Battalion Chief for Draper City Fire Department, told Gephardt Daily there was minimal smoke showing on arrival.
"We gained entry into the house, found a small fire in one of the bedrooms," Vawdrey said. "We had the fire under control in about 10 minutes. We were able to keep the smoke damage to a minimum because the doors were closed to all the bedrooms, it kept the fire contained to one room, the smoke damage was very minimal down the hallway."
The occupants of the home were able to self-evacuate, he said, but one cat is deceased as a result of the blaze.
Vawdrey said the family should be able to return to the home Friday.
The total damages amount to approximately $20,000, he said, but there would have been far more damage had the door to the bedroom been open.
The cause of the fire is under investigation, Vawdrey said.
Gephardt Daily will have more on this developing story as information is made available.