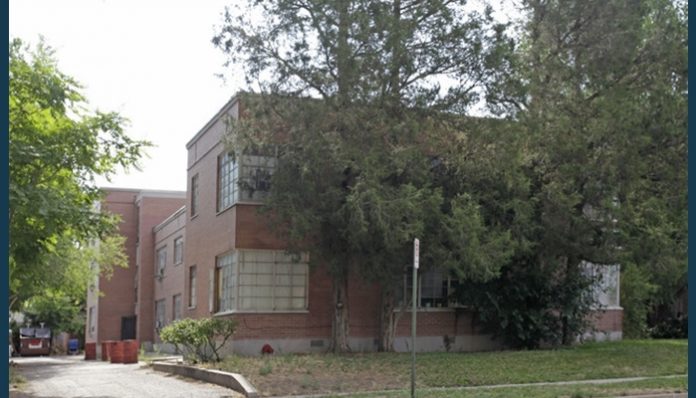 SALT LAKE CITY, Utah, Feb. 11, 2019 (Gephardt Daily) — Some 42 occupied units at the Georgia Apartments are being evacuated Monday after the Salt Lake City Fire Marshal issued a "Red Tag" order on the property.
The Georgia Apartments, at 203 E. 2100 South, have been deemed as unsafe to occupy, said a news release from Salt Lake City Fire Department.
"This order is a result of repeated and unheeded requests by the SLCFD to the property owner to bring the building up to fire code," the news release said.
Repeated inspections of the property, including one on Dec. 4, 2018 and one Monday morning, found:
1) Fire escapes not certified every five years per International Fire Code (IFC) 1104.16.5 and 1104.16.5.1
2) Egress blocked/restricted by debris to include couches, tires, mattresses and other waste type material IFC 304.1, 304.2 and 315.3.2
3) Wet sprinkler system in unconditioned space (under 40 degrees) due to missing windows, doors and nonfunctional heating system per 2013 NFPA 13 8.16
4) Missing fire extinguishers resulting in a greater than 75' of travel (must be in every apartment and areas listed in 906.1 or as listed in 906.3)
5) Missing smoke detectors which must be maintained per 2015 IFC 1103.8
6) Vegetation and trees interfering with access to the FDC, must maintain proper spacing per 2015 IFC 912.4.2
7) Electrical wiring not to code (exposed wiring running from electrical boxes to other electrical item and use of extension cords) per 2015 IFC 605.6, 605.9 and 605.5
8) Insulation and wiring on sprinkler pipes not permitted per 2013 NFPA 13 8.16
Of immediate concern to the Fire Marshal is the potential that cold weather has resulted in the freezing of the building's sprinkler pipes, the news release said.
"These violations result in extreme fire danger and potential injury and loss of life to all occupants of the building, necessitating an evacuation," the news release said. "This status will remain in effect until the Fire Marshal determines these conditions no longer exist and the building is safe to occupy in accordance with state law."
In order to limit the impact of the order on the residents of Georgia Apartment, SLCFD, the Mayor's Office, Salt Lake City's Division of Housing and Neighborhood Development (HAND), Salt Lake City Police Department and the City Attorney's Office, have been working together to develop an evacuation transition plan.
The evacuation transition plan includes:
72-hours of "Fire Watch" service, allowing the building to stay occupied for three days. Fire Watch service consists of 24-hour safety inspections of the building while it is being evacuated.
To assist residents with housing needs, a Housing Outreach Center has been established at the Salt Lake County Government Complex, South Building Room 120. The Outreach Center will be open to residents Monday noon–5 p.m.; Tuesday 9 a.m.–noon, 5 p.m.–7 p.m.; Wednesday noon–5 p.m. All occupied units were notified of Outreach Center.
Service providers at the Outreach Center include: Salt Lake City and Salt Lake County Housing Authority, Utah Community Action, Salt Lake City Police Department's Community Connection Center, Department of Workforce Services, the Road Home, and the Other Side Academy, which is providing free moving services to residents.
Individuals interested in helping by providing rent and deposit assistance should contact Tony Milner at 801-792-7395.
On Friday, the Salt Lake City Attorney's Office sent notice to the owner of the Georgia Apartments of intended reinspection of the property by the Fire Marshal on Monday.
Though unrelated to the "Red Tag," the Attorney's Office also outlined multiple enforcement actions related to the Georgia Apartments, including citations by the City's Civil Enforcement for noncompliance with housing and zoning codes, resulting in $4,200 in outstanding fees.
Due to violations and inaction, the owner was also suspended from the City's "Good Landlord Program," following a September hearing with the City Office of Business Licensing. Due to this suspension, the owner is now delinquent in fees totaling $13,524, with an additional $14,514 due to the City on Feb. 28.
In 2018, the Salt Lake City Police Department also recorded 647 calls for service to the Georgia Apartments, a significant increase from 213 calls in 2017. The calls included: drug problems, fights, domestic disturbances, trespassing and a number of other criminal activities.