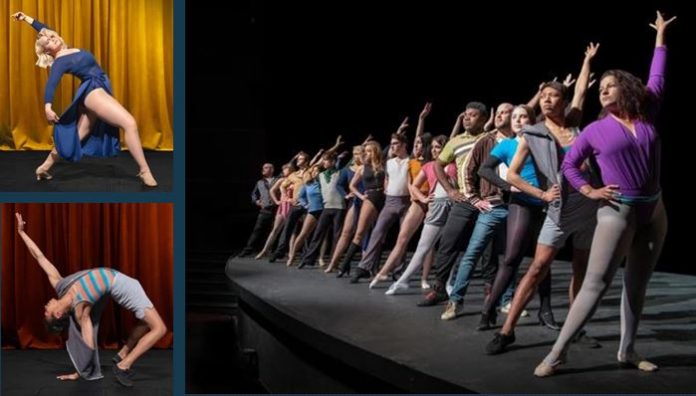 OGDEN, Utah, June 21, 2019 (Gephardt Daily) — More than four decades after its Broadway debut, "A Chorus Line" is fresh and new at Ogden's Ziegfeld Theater.
It still offers the joy, angst, sweat and tears of the original musical about a Broadway audition at which dancers share their best steps, along with their innermost hopes and fears.
But the Zig's production also offers an intimacy you could never get from a large-venue touring production or from a seat in a major Broadway venue.
… Which makes it fresh again, despite the fact that the youngest character in the show's 1975 debut now would be 64.
The musical, with book by James Kirkwood and Nicholas Dante, music by Marvin Hamlisch and lyrics by Edward Kleban, plays through June 29 at the Zig, at 3934 Washington Blvd. A short run at Park City's Egyptian Theatre follows in July.
The ensemble piece, directed by Amber Hansen with music direction by Heidi Potter Hunt, features strong performances by every key player in the cast. The actor cast as Zach, the director, demands not just dance skill and precision, but an insight into what drew individual dancers to the art.
Past tragedies and victories are shared. Insecurities and sacrifices are revealed. A stage full of hoofers trying their best to look cool and accomplished are coaxed into sharing the raw truth about what brought them to that point.
And they all really need this job, which most of them will not get.
Standouts in the cast included Cate Conroy as the brassy, somewhat jaded Sheila; Amy Pike as fallen star Cassie; Cat Umano (Val) for her hilarious rendition of "Tits and Ass"; and Mejai Perry as Paul for making the whole audience cry in empathy.
And that's just scratching the surface. The whole show is full of performances that inspire laughter, awe and — most of all — empathy.
Don't miss it.
Please note that "A Chorus Line" contains some adult language and themes, and make your ticket decision accordingly.
The show plays at 7:30 p.m. on Fridays and Saturdays. For more information about the theater, or to get tickets, click here.