SALT LAKE CITY, Utah, Sept. 8, 2023 (Gephardt Daily) — If you're a fan of theater that really makes you think, and that will most likely prompt a lively post-show discussion, then it's worth a visit to the Regent Street Black Box at the Eccles Theater this weekend to see Wasatch Theatre Company's "Art and Class" by Matthew Ivan Bennett.
The production is the last portion of the theater company's annual Page-to-Stage Festival, which this year has consisted of a collection of shorts and two full-length productions, all at the Black Box in downtown Salt Lake City.
The show, which features Yoah Kristine, Jesse Nepivoda, Roger Dunbar, and Stephanie Howell, opened Thursday and has performances Friday, Saturday and Monday at 7:30 p.m., with matinees on Saturday and Sunday at 2 p.m. Tickets are available here.
The play takes inspiration from an incident that occurred in Utah in 2017. Mateo Rueda, an art teacher at Lincoln Elementary in Hyrum, was accused by a parent of showing pornography to students. Rueda found a box of postcards called The Art Box on a shelf in the school library, and thought the cards would help him to explain a lesson about color theory to the Cache County school's fifth and sixth graders. The problem was, a few of the images, which are reproductions of classic paintings, contained nudity.
A handful of parents complained to the Cache County School District, and one parent called the police. The police searched the school for pornography and instead caught the principal in the act of shredding images from The Art Box at the request of the school district. According to Cache County attorneys, the pictures were not pornography. Rueda was however fired; though the school district denied firing him over the nudity. Rather, it was claimed he spoke inappropriately to the children. Colombian-born Rueda, who is also an artist, claimed that he said the children should not feel the images were wrong.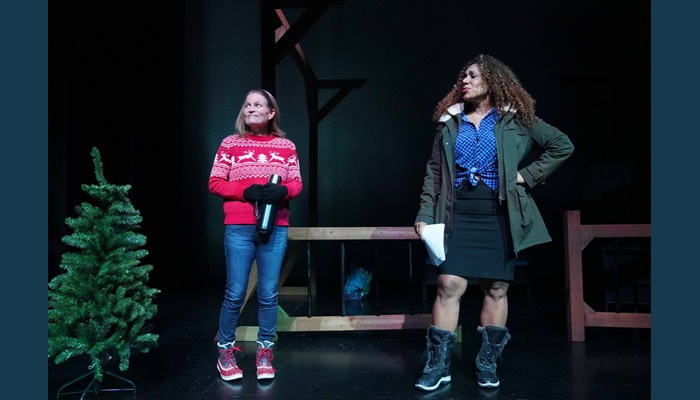 In Bennett's play, also set in Cache County, the central character is Lucía Mendoza-Horne (Kristine), a visual arts teacher and artist who is also a Costa Rican immigrant. The parent that complains about the pictures containing nudity is Mindy Van Tassel (Howell), who is a conservative member of The Church of Jesus Christ of Latter-day Saints, and whose family also happens to be big donors to the school.
"They made my daughter self-conscious — and uncomfortable — and that's all that matters," Van Tassel says about her child, Payslee, seeing the art in question. She then goes on to call the police about the situation, after a Facebook post from her that reads, in part: "A certain person, who was not born or raised in this community, who sneers at our Constitutional right to determine our own standards, has assumed my role as a mother and exposed my sixth-grader to degrading and misogynist 'works of art.'" She later claims that her daughter attempted to harm herself, possibly triggered by the images she saw.
There are also three male characters in the play; the school principal, Dr. Leland Hess (Dunbar) who is also LDS, but more liberal, and who happens to also be good friends with the accused teacher, as well as Mendoza-Horne's husband, Riley Horne (Nepivoda), a dairy farmer. There is also a minor character who ignites an altercation in a Christmas tree lot, also played by Dunbar.
After being workshopped at four companies in 2019 and 2020, "Art and Class" received its world premiere as an audio drama by Plan-B Theatre Company in April 2021, during the COVID-19 pandemic. Wasatch Theatre Company's presentation marks the first in-person production of the piece.
Fresh from the success of Meanwhile Park's "From June to August" earlier this summer, Bennett has scored another hit with this play. He has a wonderful knack of managing to go deep into controversial subjects without ever seeming didactic, because he creates characters that are so well-rounded and multi-layered that one is carried along by the action and fascinated to see what happens next. Like his rom-com "From June to August," this is a play about relationships. And because his characters have so many facets, it also means that we feel sympathy for each individual, even if their fundamental views don't align with our own. Van Tassel, for example, obviously loves her troubled daughter very much, and is desperately and unsuccessfully trying to help her. And Mendoza-Horne, though she is the protagonist, is flawed and painfully human.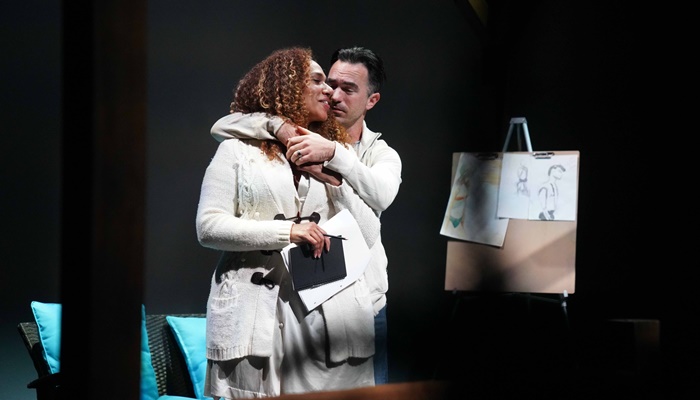 In this case also, the script is brought to life by some of Utah's finest actors, competently directed by company co-founder Jim Martin. I haven't seen Kristine on stage before, but she turns in a sound performance as Mendoza-Horne. Supporting her is Nepivoda as her husband, who is always an intriguing actor to watch; in this case, his gritty, street-smart cowboy could have walked right off the set of "Yellowstone."
Dunbar's performance as the school principal is a lesson in subtle brilliance. Both he and Howell took part in multiple readings of the play as well as the Plan-B audio performance, and it's clear Dunbar knows this character inside and out. One of my favorite segments in the play is the one where he clunkily tries to describe his perception of one of the paintings, Boucher's "Odalisque;" and is clearly desperately embarrassed and uncomfortable.
I also loved the scene between the two women in the Christmas tree lot that the Van Tassel family owns. Howell manages to imbue her character with a backbone of pure steel, but at the same time, a fragility that reminds one of a delicate glass Christmas ornament that could shatter at any moment. I also appreciated the fact that the play is set during the festive season, when folks are expected to be joyful but an undertone of stress often hovers just under the surface.
The production values in this case are simple but effective. There are no designers credited in the program; the set consists of the Mendoza-Horne family's covered porch, with the Christmas tree lot downstage right and the principal's desk downstage left. The lighting is mostly realistic but a light and sound effect are employed at times that I believe depict what is going on in the protagonist's mind and body; we hear a sound effect that sounds like her heart beating, and it's accompanied with washes of various bold colours. It's as if we are seeing inside her artist's mind. The costumes are straightforward and perfectly appropriate.
All in all, the production challenges our perceptions of race, class and the function and purpose of the human body in classic works of art. It's also about the perceived utopia of small-town America and what that really consists of. As Mendoza-Horne says at one point: "This is what step one of fascism looks like. Step five is burning books and print collections. But it starts with 'protecting the children' and 'community values.'" Because this is such a short run, I do hope the play is produced again very soon so more people get a chance to see it. If you do go this weekend, I highly recommend drinks or dinner afterwards because I guarantee you are going to want to dissect what you just saw. It will keep you thinking for a long while after the curtain falls.