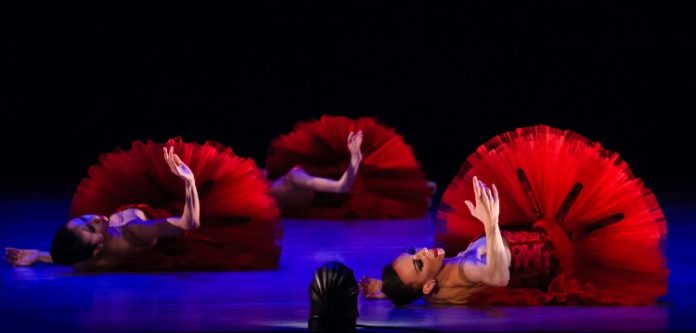 SALT LAKE CITY, Utah, April 10, 2017 (Gephardt Daily) — Ballet West is masterful at staging visually delightful, sumptuous, uplifting productions.
The company's latest show is a sophisticated triple-bill that runs the gamut from elegant neo-classism to powerful German expressionism. It's a little bit of a gamble, as the subject matter is mature, and there will be audience members who prefer the light and breezy fare. But for me, the gamble totally paid off — I have never seen a ballet program so transformative, and four days after the performance, I have images burned into my psyche that are not likely to leave anytime soon.
"Journeys and Reflections" opens with the revival of George Balanchine's ethereal "Chaconne," set to the music from Christoph Willibald Gluck's opera "Orfeo ed Euridice." Having first premiered in 1976, the ballet invokes the heavenly Elysian Fields from the opera with a technically demanding series of dances for a large cast. "The New York Times" called the work "silken and quintessentially Balanchine."
Next on the program is the return of Utah-native Garrett Smith's "Façades," a ballet that takes an innovative look at self-awareness through a Baroque eye. The piece first premiered at Ballet West's "Innovations" series two years ago. Smith, now an internationally renowned choreographer, returns to Ballet West to expand and distill this work, set to a compilation of music by Phillip Glass and various Baroque composers.
The program closes with the Ballet West premiere of Kurt Jooss' "The Green Table," subtitled "A Dance of Death in Eight Scenes." First performed in Paris in 1932 just one year before Hitler's election to Chancellor of Germany, the groundbreaking work displays the futility of war, and continues to be a powerful study of failed diplomacy. "The Green Table" is considered one of the greatest ballets of all time, and it is a mesmerizing and almost ritualistic experience that has particular relevance right now.
As always at Ballet West, the production values are stunning. The sets and lighting are simple and bold, but effective, and their understated nature only serves to focus our attention further on the performances, and also the gorgeous costumes. During the first piece, "Chaconne," the dancers are clothed in soft, draped pieces in shades of ivory, mint and taupe.
In contrast, during "Façades," the color palette is stark black, white and scarlet, which is luscious and very sensual, with a slightly Spanish feel.
In the last piece, the costumes are more subtle and theatrical — the dancers begin the piece in suits and masks, and the costuming and staging throughout reminded me of a piece of Dada avant garde theater; an artistic movement that flourished during WWI and WWII. Playwrights who wrote in this style, including Alfred Jarry, Samuel Beckett and Bertolt Brecht, wished to purposefully shock people out of their complacency and they believed this would pave the way for social and political change.
The most striking costume in this piece is that of Death, the looming, ever-present character. In each scene, the figure of Death is triumphant, portrayed as a skeleton moving in a forceful and robot-like way, relentlessly claiming its victims. His costume is a combination of grim reaper turned gladiator, with a sprinkle of medieval Dance of Death pageantry. Once seen, his image is hard to wipe from memory; he lingers in one's mind like a specter.
Which brings me to the performances. The dancers of Ballet West are always technically brilliant, but the added challenge this time is that the key characters in each piece have a specific arc, or journey, so must be created with depth like an actor would create a meaty role. The current crop of Ballet West dancers are very distinctive, and have the ability to tell complex stories both cleanly and with panache.
And, unusually, it's the male dancers that are really given the opportunity to shine, particularly in "The Green Table." The role of Death, portrayed on opening night by Beau Pearson, is so demanding that the dancer plays only that part in the entire program.
Pearson was mesmerizing. Death is portrayed as having many facets and taking people in different ways, sometimes gently, sometimes violently. The character is given often repetitive movements for chunks of time, and we find ourselves drawn in, unable to tear our eyes away, almost as if Death is casting a hypnotic spell over us, too.
Interestingly, Pearson and the other standout for me, Christopher Ruud, both have acting training as well as dance. Ruud, who did not appear in the last ballet, "The Sleeping Beauty," because he was having knee surgery, is back as The Profiteer, who is portrayed as a silky, agile, cunning character, who reminded me of French actor and mime Marcel Marceau. Ruud always inhabits his characters utterly, and it's a joy to see him back on stage. He and Pearson's scenes together are particularly dynamic.
The female dancers excel in their ensemble work. In "Façades" particularly, two dancers, Allison DeBona and Emily Adams are required to move totally in sync, as DeBona plays a mirror image of Adams. The portrayals by these two unique dancers was enthralling. I had to remind myself at times that I wasn't watching Adams in front of a mirror.
In smaller roles on opening night, Beckanne Sisk, Arolyn Williams and Sayaka Ohtaki are also standouts. All of the pieces really combine ballet with a more contemporary dance style and these three pull that combination off with verve.
If you don't have your tickets to "Journeys and Reflections," there are five more performances this week and I would advise you to book now. We are privileged that Salt Lake City is home to a company of the caliber of Ballet West, under the leadership of artistic director and CEO Adam Sklute, and with tickets starting at just $20, it won't break the bank.
"Journeys and Reflections" plays at the Capitol Theatre at 7 p.m. on Wednesday, and 7:30 p.m. Thursday, Friday and Saturday, with an additional show at 2 p.m. on Saturday, April 15. Tickets are $20 to $87 and are available by calling 801-869-6920, or online here. The Capitol Theatre is at 50 W. 200 South.