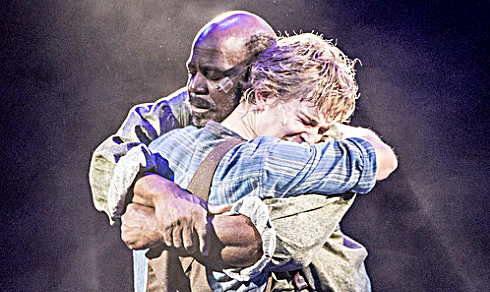 WEST VALLEY CITY, Utah, June 7, 2016 (Gephardt Daily) — "Big River" is about more than a raft trip down the Mississippi River.
The stage musical is about the dangerous, high-stakes journey that escaped slave Jim, a hunted fugitive, takes toward freedom and dignity.
And it's about the leisurely trip that Huckleberry Finn, 14 and white, takes on the same raft, leaving in search of a carefree adventure, but arriving at a place of deeper wisdom and humanity.
"Big River," set in the 1880s and based on Mark Twain's "The Adventures of Huckleberry Finn," plays through July 23 at Hale Centre Theatre, 3333 Decker Lake Drive, West Valley City.
Remaining tickets are limited. Check here for availability and prices.
The musical, with book by William Hauptman and music and lyrics by Roger Miller, is in good hands at the Hale Centre Theatre. HTC in 2003 won an international theatrical award for its use of water.
This production of "Big River" costars about 9,000 gallons of water. Much of the first act takes place as Huck, Jim, and their unwanted guests bob on a floating raft.
Kooper Campbell stars as Huckleberry Finn in the Monday/Wednesday/Friday production, which was reviewed. Matthew Clark Richards plays the title role on Tuesdays, Thursdays and Saturday.
Harry Bonner plays Jim on Mondays, Wednesdays and Fridays, with his son, Conlon Bonner, handling the honors on Tuesdays, Thursdays and Saturdays.
Campbell plays Huck as Twain wrote him: guileless and open, an outsider struggling to understand civilized society and reconcile some of its misguided values with his own sense of good and evil.
Harry Bonner plays Jim as mature, dignified and innately intelligent, a refreshing departure from some interpretations seen on Utah stages.
The actors do a great job of pacing their characters' growing relationship and mutual understanding, making Huck's epiphany even more powerful.
Set designer Jenn Taylor has to be commended for her automated, "transformer" set, light enough to fly out to reveal the mighty Mississippi, yet strong enough that when the river is covered, more than two dozen actors can stand on the temporary floor without fear of being dumped into the drink below.
The show, directed by David Weekes, is a technical wonder, and the acting is top notch. And if the production seems a little too light and goofy to begin with, just wait awhile for the rich, satisfying resolution to come.