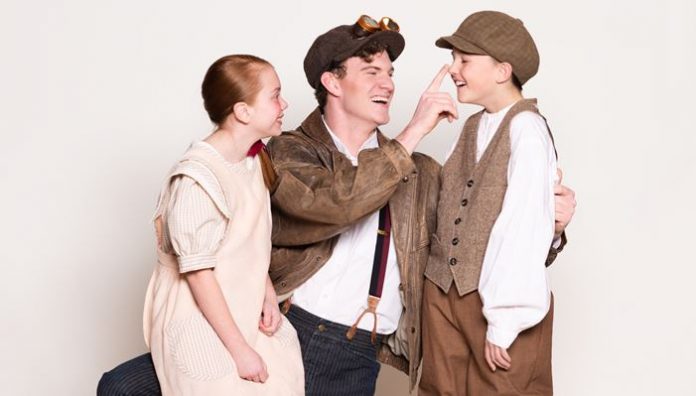 "Chitty Chitty Bang Bang," the 2005 Broadway musical spawned by the 1968 film, plays the CenterPoint Legacy Theatre's Barlow Main Stage through April 13.
Upfront warning: This musical, like the film, is for people who enjoy fanciful stories with absurd touches. Can't suspend disbelief long enough to accept that a rusted-out race car may know some magical tricks? Or that the flamboyant rulers of a country called Vulgarian might send two dimwitted spies to steal such a magical junk heap? Then your theater dollar may be best spent elsewhere.
Up for a serious dose of foolishness and some family fun? Then you are in the right place.
CenterPoint's "Chitty Chitty Bang Bang" will best be appreciated by those who can embrace the silliness and appreciate a nicely produced piece of family theater, featuring good singers, beautiful costumes and sets, and a trick to simulate a car in flight.
On the opening Saturday performance, Ryan Zaugg was fun to watch as Caractacus Potts, a freelance inventor and widowed father of two, as he captured his character's free-thinker/concerned father persona and did a solid job on his songs. In the Monday/Wednesday/Friday cast, Caractacus is played by David Simon.
The precocious Potts children, Jeremy and Jemima, are played Preston Spencer and Kaylee Call in the Tuesday/Thursday/Saturday cast, and by Colby Thornton and Abigail Bennett in the M/W/F cast. Spencer and Call were strong in the Saturday night cast, and had the charisma and confidence to be believable in their featured roles.
The trio meets up with a young woman named Truly, and suffers ruffled feathers before eventually bonding. Saturday's Truly, Alisa Woodbrey, had the strongest singing voice in her cast, and was especially fascinating to watch in a music box scene. Shanda Christiansen plays Truly in the M/W/F cast.
Other standouts in the cast reviewed were Mark Gurney as Baron Bomburst/Lord Scrumptious, and Jessica Love as Baroness Bomburst. The bombastic Bombursts added a lot of comedy to the show, as did the bumbling and villainous spies played by Clark Bullen and Kannon Servoss. David Nielsen was fun as Grandpa Potts, and Jake Law was creepy and ominous as The Childcatcher.
Sets, by Scott Van Dyke, varied by scene, and were minimal in places and more ornate in others, and pieces associated with the invention process had a nice Steampunk vibe. Costumes, by Jeana Forthman and Nita Smith, were fun to look at, and revealed a lot about those wearing them.
Director Jansen Davis did a nice job pulling it all together, including the use of several special effects.
For more information about the CenterPoint Legacy Theatre and the show, click here.