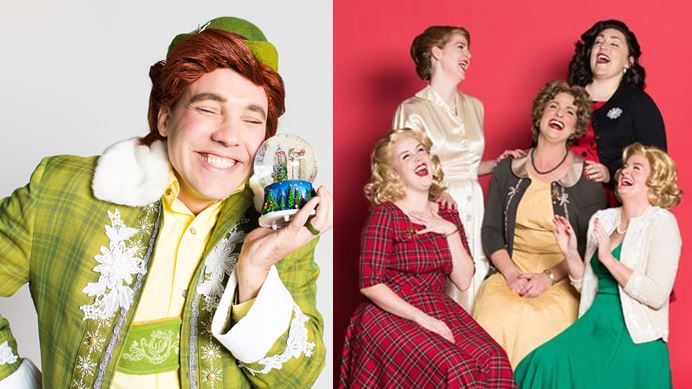 CENTERVILLE, Utah, Dec. 6, 2018 (Gephardt Daily) — 'Tis the season for Christmas shows, and CenterPoint Legacy Theatre is offering something fresh on both of its stages.
The Centerville theater complex is Scrooge-free this season, but still features redemption stories. On the larger stage, it's "Elf," the 2010 Broadway musical based on the 2003 Will Ferrell film comedy of the same name.
Buddy the elf discovers by accident that there's a reason he towers over the other elves, and undertakes a quest to find the human father he never knew he had, who also didn't know about him.
Buddy (a role played by Aaron Ford and Ben Heder on alternate days) is guileless and innocent, even by elf standards, which creates lots of misunderstandings and generates most of the comedy. Buddy learns a lot through his journey, but the real redemption journey is that of dad Walter Hobbs (played alternately by Todd Wente and Andrew Gemperline), who gains a goofy, oddball son and the good sense to appreciate what he has.
This show is a good choice for families, and the laughter of children in the audience just adds to the fun.
Also elevating the show are the quality of human and elf singing voices, the authentic-looking North Pole costumes, and special elf choreography.
On CenterPoint's smaller stage is "5 Carols for Christmas," a local favorite in a newly extended format. The play, with book and lyrics by director Jim Christian and music by Ken Plain, is set in the 1950s, and tells the story of five friends named "Carol" who are preparing to present a community show they hope will be perfect.
It won't, of course. But where is the fun in perfection?
The characters are Carol Anne Farrell (Stephanie Pugh), Queryl Pomeranze (Liz Corona), Karil Kitteridge (Mickey Larson), Carroll Ling (Lindsea Garside) and Car'l Noyse (Kim Tolman), plus non-Carol Cousin Ray (Sean Bishop).
The musical got its start at Weber State University, where Christian used to teach, and several parts are played by the actresses who originated the roles. The show is geared for adults who appreciate well sung songs and gentle humor between friends.
The women are fun, gossipy and even a bit elegant in their red lips, and hair and dresses that would do June Cleaver proud. It's an evening of close harmonies, with a ratio of about two thirds nostalgic sweetness to one third socially awkward hilarity.
Both "Elf" and "5 Carols for Christmas" continue through Saturday, Dec. 22. For showtimes, theater information or to purchase tickets, here.