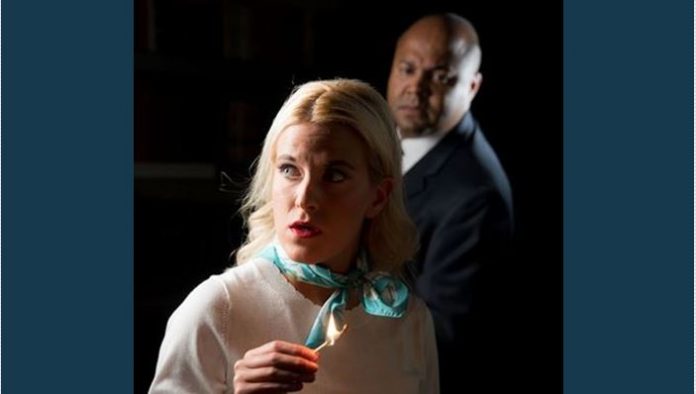 SANDY, Utah, Sept. 24, 2018 (Gephardt Daily) — Don't wait to see "Wait Until Dark."
The Hale Centre Theatre production, on the Jewel Box Stage, retells the story captured by the 1968 film thriller of the same name, for which Audrey Hepburn earned an Oscar nomination.
But the stage version of the Frank Knott drama allows you to actually be in the room with Suzy, the blind housewife whose husband has brought home a doll, unaware something is hidden inside. And Suzy doesn't know that armed criminals, capable of murder, are conning her in order to get the doll.
Being in the same room with Suzy and the dangerous men makes the action feel more immediate, visceral and dangerous than it does when you watch the film version.
The thriller stars Riley Branning and Elise Pearce as trusting but smart Suzy Hendrix; Bridget Maxwell and Mila Belle Howells as Gloria, the snarky kid upstairs; and Benjamin J. Henderson, single cast as the ruthless Harry Roat.
Playing the additional con men under Roat's control are Lonzo Liggins and Greg Hansen alternating as nicer guy "Mike," a name assigned by Roat, and Zac Zumbrunnen and M. Chase Grant as the more morally flexible "Sgt. Carlino." Jacob Theo Squire and Marshall R. Madsen alternate as Suzy's devoted husband, Sam.
Costumes by Kimberly Fitt have a nice '60s vibe, as does the clever and versatile set, by Jennifer Stapley. Lighting, by Danna Barney, adds to the suspense and creepiness, casting ominous shadows and, at one point, giving the audience a sample of what Suzy's blindness might feel like.
Director Dave Tinney has woven together a nice, taut story, full of scary moments. The show is most suitable for older teens and adults due to those same scary moments, and to talk of killings, some stage violence, and a mention of drugs.
But for those seeking pre-Halloween chills or just a well told suspense story, "Wait Until Dark" fits the bill.
Tickets are going fast, so don't delay. For information, click here.