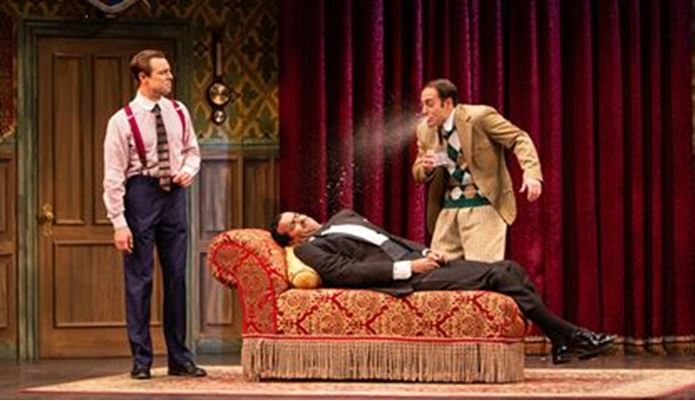 SALT LAKE CITY, Utah, Dec. 12, 2019 (Gephardt Daily) — Everything goes right with "The Play That Goes Wrong," currently playing at Pioneer Theatre Company.
And you won't know what a technical and artistic miracle that is until you see the hilarious show, which draws much of its comedy from razor-sharp comic timing, acting so bad it's perfect, and a set that does plenty of tricks itself.
The script, by Henry Lewis, Jonathan Sayer and Henry Shields of Britain's Mischief Theatre, offers a play within a play. Actors playing the under-funded, dubiously talented, overly ambitious Cornley Polytechnic Drama Society perform a 1920s-style murder mystery, "The Murder at Haversham Manor." The setting is a vintage manor with a quirky, crumbling character of its own.
What could possibly go wrong?
Well, pretty much everything, and in the most comic ways imaginable, plus many in ways the audience would never see coming. Expect a new belly laugh every few seconds.
Director Karen Azenburg does a flawless job of bringing all the elements together. Set designer James Kronzer deserves praise for both his artistic design and his engineering. Also deserving of praise are costumes by K.L Alberts, hair and makeup by Amanda French, sound design by Allan Branson, lighting design by Kirk Bookman and dialect coaching by Sarah Shippobotham.
And the cast is amazing, with hardly a weak link in the bunch. Brandon Contreras stars as actor Jonathan, playing the recently deceased Charles Haversham, a corpse who has to look as dead as possible while being stepped on, dropped, left behind and otherwise abused by fellow cast members.
Ruth Pferdehirt plays actress Sandra, tasked with playing overly dramatic female lead Florence Colleymore, fiancee of the deceased. But will Sandra stay upright long enough to reveal Florence's secrets?
Then there is the stage manager, Annie, forced to step in when an actor becomes unavailable. Meek and frightened as she reads her lines from a script, Annie ends up inhabiting the role in a way no one could have predicted.
Add to that a bevy of male actors playing brothers, boyfriends, an investigator and a servant, most doing their best with their meager talents, missing props and other unfortunate circumstances. They deliver the kind of brilliantly bad acting that only really good actors can pull off.
Greg Balla, William Connell, Eric Santagata and Jordan Sobel are highly relatable and entertaining to watch. So is Archelaus Crisanto as the audio tech who also faces unexpected challenges.
To tell more of the plot would be a disservice to future audience members, who deserve to enjoy every delicious mishap and plot twist as they unfold.
"The Play That Goes Wrong" is the perfect antidote for holiday or work stress, and is a hoot throughout. The comedy continues through Dec. 21 at Pioneer Theatre Company, 300 S. 1400 E, Salt Lake City. For ticket information, click here.