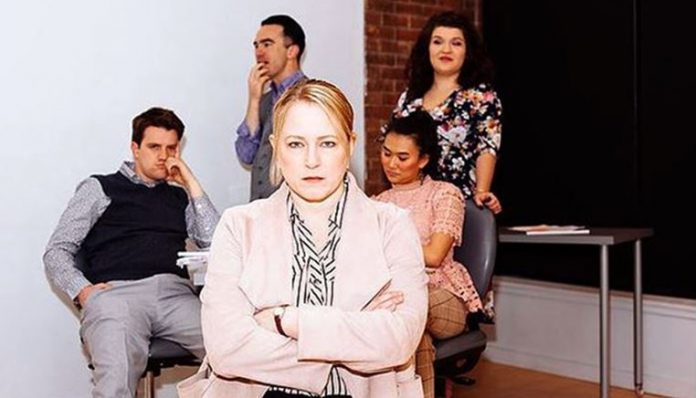 OGDEN, Utah, March 11, 2019 (Gephardt Daily) — The Pulitzer Prize committee described one of its 2016 drama finalists, playwright Branden Jacobs-Jenkins' "Gloria," as "A play of wit and irony that deftly transports the audience from satire to thriller and back again."
Utah audiences can take that emotional journey weekends now through March 24 courtesy of Ogden's Good Company Theatre, which favors lesser-known powerful works for an audience that likes to leave the theater with things to think about.
The show opens with office-mates — editorial assistants at a struggling but prestigious New York magazine — gossiping and sniping about about anyone not present, and even setting each other up for entertaining failures.
All are ambitious, youngish adults, all frustrated by cubicle confinement and lack of advancement prospects. They are funny and mildly infuriating to watch, like people with whom most of us have worked.
But before the end of Act 1, an unexpected act of violence (expect simulated gunfire) will change everyone's life.
Act 2 is about how people move on, or don't, and who owns their shared experience.
The script, drawn from recent headlines and from Jacobs-Jenkins' experience working for The New Yorker, gives every character moments to be smart and vulnerable, and to shine. It allows some to show their range by playing multiple roles.
Standouts in a very strong cast are Brandon Garside and Lara Vo, who have the most stage time and perhaps the most time to develop their characters.
Then again, Cassidy Wixon was amazing in her ability to create three distinct characters, and Jesse Nepivoda was totally relatable in both acts. And Sahna Foley created two fascinating characters, with Avery Franklin's characters adding depth to the themes and a welcome break from all the intensity.
The show is deftly directed by Alicia Washington, who never disappoints. Set design by Allen Smith is versatile and captures the claustrophobic feel of a real office. The black box theater also adds to the intimate atmosphere, as does the audience's unavoidable proximity to the action on stage.
It's a powerful play, with adult language and difficult themes, along with the single scene of simulated violence. For more information about the play and theater or tickets, click here.