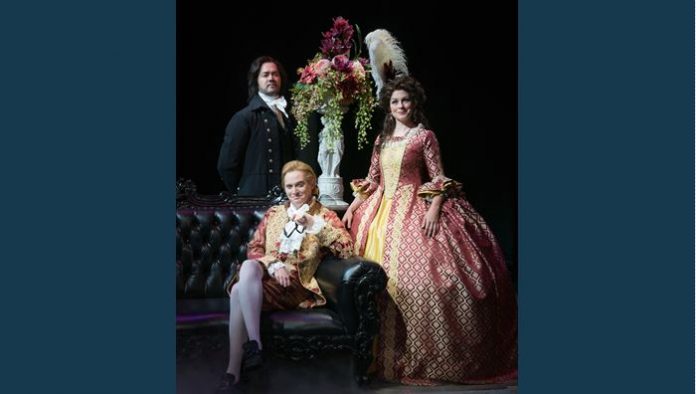 SANDY, Utah, Sept. 25, 2018 (Gephardt Daily) — One of the Hale Centre Theatre's signature pieces, "The Scarlet Pimpernel," is back in a production that takes one's breath away starting with the opening scene.
The Nan Knighton/Frank Wildhorn musical is set during the early days of the French Revolution, when the organized underclass is sending members of monarchy and privileged classes to the guillotine.
The excesses cannot be illustrated more quickly than in the costumes (by Kelsey Nichols) and set design (Kacey Udy) on display early in the first scene, which are lavish beyond all reason.
One can easily see why the starving masses would be angered by such excess. But a lot of good people are being beheaded along with the guilty and corrupt.
France needs a hero, and an anonymous one will appear from nearby England.
Percy Blakeney is enjoying his wedding day when he learns that his bride, French woman Marguerite St. Just, has been instrumental in leading authorities to a friend in France who was subsequently executed.
So Blakeney turns his back on his bride, and recruits his friends to dress in costumes, sail to France, and begin a secret crusade to save as many people from the guillotine as possible.
And, back home in England, Blakeney and friends don garish attire and foppish behavior to ensure no one will suspect they are serious-minded rescuers of the unjustly condemned.
Audience members on Mondays, Wednesdays and Fridays will see Percy Blakeney played by Keith McKay Evans, Marguerite played by Amy Shreeve Keeler, and the cruel manipulator Chauvin played by Quinn Allan Dietlein. Audiences on Tuesdays, Thursdays and Saturdays will see Daniel Beck, Erin Royall Carlson, and Dallyn Vail Bayles in the same roles.
The show is a visual feast, lavish when it needs to be, stark when that is appropriate. There's not a weak link in the cast that was reviewed (Monday/Wednesday/Friday), and the quality is pretty uniform between productions and casts at the Hale Centre Theatre.
Longtime director John J. Sweeney has done a stellar job on this show, as have choreographer Marilyn May Montgomery and music director Anne Puzey. And it would be hard to imagine an improvement on the set designed by Udy, costumes by Nichols and hair and makeup by Trisha Ison.
One of the Hale's signature features is its motorized stage, with portions that can rise, lower and rotate. The effects can be overused to the point of distraction, so it was great to see them used to enhance the story in this case.
It's an amazing and grand production, perhaps outshining those at the theater's previous location in West Valley City.
The show runs through Nov. 24, with performances Mondays through Saturdays at 7:30, with some additional matinees on Saturdays. For ticket information, click here. But act now. Tickets for this company favorite are selling fast, with most remaining for later in the run.