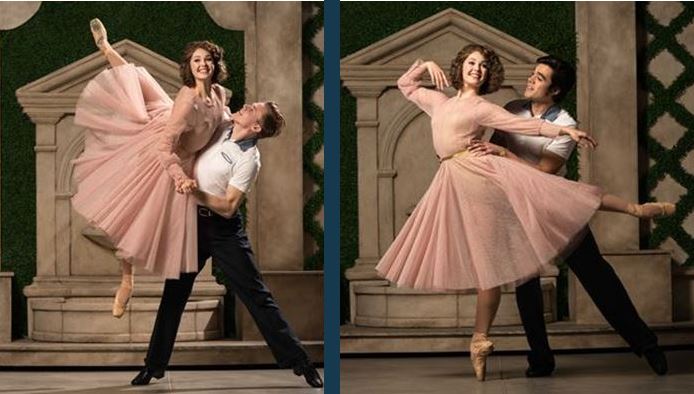 SANDY, Utah, Feb. 28, 2019 (Gephardt Daily) — Remember that Oscar-performance moment between Bradley Cooper and Lady Gaga when the heat between the two seemed to radiate through the television screen?
To feel something similar, off and on over a period of 2 hours and 25 minutes, check out "An American in Paris," the 2015 Broadway musical now being staged in its regional premiere at Sandy's Hale Centre Theatre. Dave Tinney directs.
It's a dance-heavy show, in the best possible way, punctuated with splashy George and Ira Gershwin songs and clever banter, set against the backdrop of 1944 Paris, at the end of World War II. The City of Lights has dimmed a few watts under the oppression of Nazi forces, but there are still a few shining souls who dream of artistic freedom and true love.
Professional ballet dancer Juliet Doherty is single cast as Lise, a joyous young artist who dreams of passion and freedom, but is weighed down by a secret burden. Doherty is thrilling to watch, supremely skilled in both her dance and her acting.
Sharing the role of Jerry Mulligan, a would-be artist who remains in Paris after his military service, are Myles Woolstenhulme (Monday/Wednesday/Friday cast) and Wesley Valdez (Tuesday/Thursday/Saturday cast). This review is based on a Thursday performance.
Mulligan is smitten with Lise, but so are two others: pianist Adam Hochberg, another American, who befriends Jerry; and Henri Baurel, a French singer who hires Adam as an accompanist and who is a longtime close family friend of Lise.
Adam is played by Andrew Robertson (M/W/F) and Marshall Madsen (T/Th/S); and Henri by Adam Dietlein (M/W/F) and Taylor Morris (T/Th/S).
And there's one more American key to the plot. She is Milo Davenport, a wealthy and brash patron of the arts who sets her sights on Mulligan. Milo is played by Brighton Hertford (M/W/F) and Ashley Gardner Carlson (T/Th/S).
The musical is rich with classic Gershwin songs including "I Got Rhythm," "'S Wonderful," "But Not for Me" and "They Can't Take That Away From Me."
But much of the story is told through dance and the intense emotions it conveys. The elegant dance was created by choreographer/associate director Jennifer Barlow.
Hale Centre Theatre's musicals always feature strong music and dance, and usually add to the magic with technology provided by sets and actors descending from the ceiling, the use of rising and falling motorized stage, and scene-setting LED light panels that encircle the audience behind the highest seats.
This production takes a more down-to-earth approach, with simple globe lighting descending, but little else to distract the audience from the human stories being told.
The real special effect here is the skill and heat provided by gifted actors and dancers. This reporter got chills and goosebumps multiple times during the performance, which is something that hasn't happened in recent memory.
"An American in Paris" is a moving story, told in a way that is both simple and spectacular. It continues through April 6, and is likely to sell out. To read more about the show or how to get tickets, click here.
To see the Hale's video preview of the show, click on the player below.