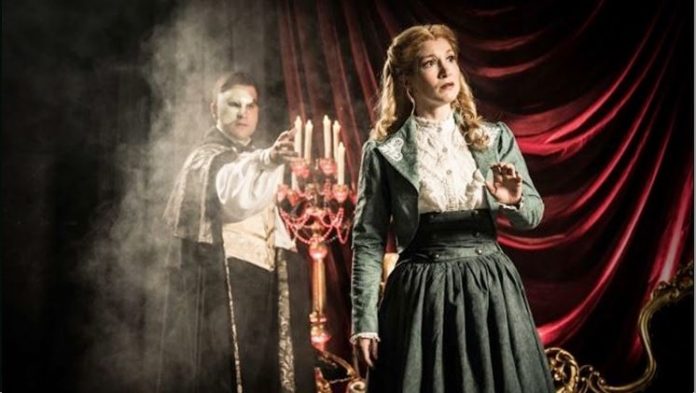 SANDY, Utah, Oct. 7, 2019 (Gephardt Daily) — You may have seen the "Phantom of the Opera," but how well do you really know the "Phantom"?
Those familiar with both know the former tells an epic tale with broad strokes and, of course, the music of Andrew Lloyd Webber.
The latter, "Phantom," is now in production at Sandy's Hale Centre Theatre. It's based on the same basic story of a masked man who lives a secretive and isolated life in the catacombs far below a grand Paris opera house in 1910.
"Phantom" is lesser known, but sticks closer to the Gaston Leroux's 1910 novel. It also reveals more about the man trapped behind the mask, making the entire story more meaningful and bittersweet.
Leave the theater humming familiar tunes if you attend Lloyd Webber's musical. Take a tissue and expect to be reconsidering big life questions after "Phantom."
"Phantom," with music and lyrics by Maury Yeston, book by Arthur Kopit, never made it to Broadway, losing its backers after "Phantom of the Opera" hit it big. But it has been performed in more than 1,000 productions around the world.
This Phantom, whose real name is Erik, is played by Preston Yates on the Thursday reviewed, double cast with Austin Smith on Mondays/Wednesdays/Fridays. Erik, well known only to a benefactor on the theater's staff, is usually content to keep a low profile as long as he can enjoy the vocal beauty of the singers above.
But his behavior takes a violent turn when his lair is discovered, and when the opera house's new owners — Alain Cholet (B.J. Whimpey/Patrick Kintz) and his ridiculous, untalented singer wife, "La Carlotta" (Raina Thorne/Mandi Barrus) — take over and dismiss Erik's only friend, Gerard Carriere (David Weekes/John Philpott).
The management change also comes just moments before the arrival of a street singer, Christine (Lisa Zimmerman/Jennifer Neff), a gifted natural artist who could benefit from training, and who was referred to the opera by a patron, Count Philippe de Chandon (Cleveland McKay Nicoll/Stephen Faulk). Zimmerman has a beautiful, pure voice.
B.J. Whimpey and Raina Thorne are excellent as the semi-buffoonish new owners: Cholet, devoted to helping his wife fulfill her dream of stardom despite her lack of talent, and  Carlotta, whose vibrata often deteriorates into yodeling.
Christine shuffled off to a menial job in the costume shop, but a certain masked mystery man appears to offer her voice lessons in secret.
Can Carriere find his way back to the Phantom Erik and return his charge to emotional stability? You probably already know the answer to that, but will be touched by the older man's impassioned efforts to save the younger.
Every voice is worthy of the complex score, and the whole sound is a credit to music director Anne Puzey. The costumes and hair, by Kelsy Nichols and Trisha Ison, beautifully define the time period and the characters. Sets by Kacey Udy are elegant and up to the theater's usual high standards. Direction by John J. Sweeney brings everything together seamlessly.
Everything works together to tell a very human story of an unfair world, and beauty that can be found in the most unexpected places.
To spend an evening in the Phantom's world, see this production, which runs through Nov. 9 at the Hale. For more information on the theater or to buy tickets, click here.