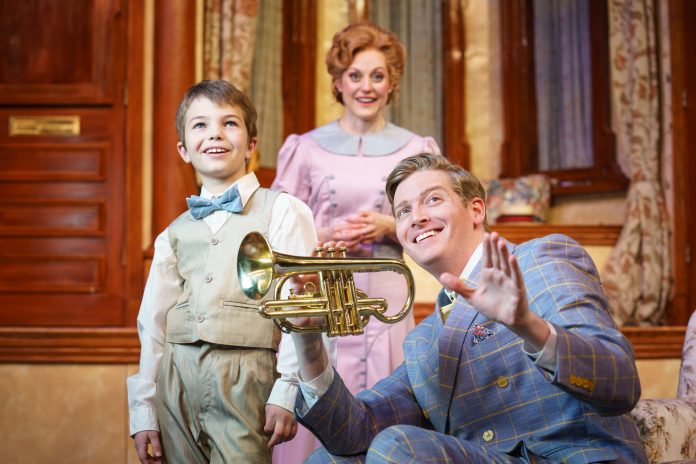 SANDY, Utah, April 19, 2018 (Gephardt Daily) — If you've seen "The Music Man" a few times, you may think you know about what to expect when you take your seat at the Hale Centre Theatre's production.
That's when the floor opens up, and a highly ornate train car emerges from below, rotating on an imaginary train track as a collection of nattily dresser salesmen converse in perfect rhythm.
This production seems to be setting the bar pretty high. And that's where it will stay until the last bows.
The Meredith Willson musical is directed by Jim Christian, well known for setting standards high while teaching at Weber State University, and now, in retirement, when he can choose the theaters and projects that interest him most.
The Hale Centre Theatre is unique in the Salt Lake Valley, with its round stage and ability to rotate or lift all or part of the acting area, and to lower large and complex structures down from above.
And each actor or designer seems to be giving their best in this production, which continues through June 9 for those lucky enough to book tickets.
"The Music Man," often described as "heartwarming" and a "classic," tells the unlikely tale of a con man in 1912 and his plan to bilk residents of a small Iowa town out of money for band uniforms and instruments.
Harold Hill flouts fake credentials and promises to teach the boy band how to play. Since he has no actual musical training, he plans to skip town after collecting payment.
And only Marian the town librarian discovers his ruse. But she also notices that, despite what Hill says he is selling, what he is delivering is hope.
It's a light and playful production, strong performances by all the main performers, with impressive work by choreographer Jennifer Hill Barlow, sets by Josh Roberts and costumes by Mandee Shaffer.
Shaffer especially captures the feel of another era, and mirrors the mood of the play in her choice of fabric colors and flourishes.
"The Music Man" is a charming and gentle fable that is packed with memorable songs including "Seventy-Six Trombones," "Goodnight, My Someone," "Trouble", and "Till There Was You."
To read more about the show or get your ticket before time runs out, click here.
And for a brief video preview, courtesy of Hale Centre Theatre, click on the player below.