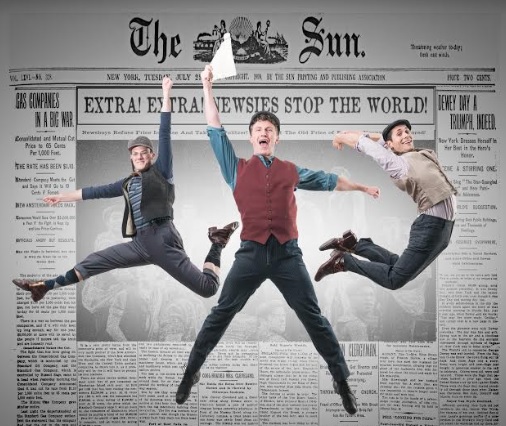 SANDY, Utah, June 28, 2018 (Gephardt Daily) — I wouldn't have thought there are many productions of the Tony Award winning musical "Newsies" that would actually have a vintage newspaper press on the stage. More than that even, the way the pivotal scene in which the press is featured is staged to make it appear as if it is actually printing newspapers. Maybe this is the case, maybe it's just really clever staging.
But it's attention to detail like this that is a hallmark of Hale Centre Theatre productions and also sets the theatre apart from every other in Utah. In its new Sandy venue, just like at its old home in West Valley City, productions are a spectacle that comes close to Broadway quality; set pieces fly up and down and in and out, and the staging is equally fluid. It's almost like watching a movie, but with the electricity that one only feels watching live theater.
Before I went, I didn't know anything about "Newsies," which runs through Sept. 1 on the Centre Stage in the Mountain America Performing Arts Centre.
Here's the lowdown: "Newsies," first a 1992 Disney film, featuring 12 original songs, was inspired by the true story of the Newsboys Strike of 1899 in New York City where the boys led a campaign to change the way they were being compensated by newspapers. The story follows Jack Kelly, the charismatic but rebellious newsboy, and his ragged team of "newsies" who sell "papes" on the streets of Brooklyn to make ends meet.
When newspaper mogul Joseph Pulitzer raises prices on his newspaper, the newsboys take matters into their own hands and organize a strike.
In 2011, the story was adapted to a musical that then made its Broadway debut in 2012, where it ran for more than 1,000 performances. Coming off of the Broadway success, "Newsies" toured in North America from 2014-2016.
The MWF Hale cast was outstanding, led by the charismatic Preston Taylor as Jack Kelly, making his HCT debut. He's absolutely a triple threat and he has that X-factor that makes you want to watch him constantly when he's on stage (which is most of the time). His singing voice is perfectly suited to the soaring solo and duo numbers such as "Santa Fe" and "Something to Believe In," as well as the rousing group numbers. He's a solid dancer, and he has the acting range to nail Jack's feistiness and pluck, but also his more tender side.
He's well paired with Bre Welch, who plays the young reporter with a secret, Katherine Plumber, in the MWF cast. She too has a beautiful, powerful singing voice, and plays Katherine as just as rebellious and gutsy as Jack, which I appreciated, and is a good message to kids in the audience, too. Taylor and Welch have real chemistry together.
The gang of newsies are also awe-inspiring. The show is a workout for them; they dance, they tap, they do gymnastics, they sing, they act, they move set pieces. The direction and choreography by Dave Tinney is intricate and obviously demands a great deal of focus from the cast, but they are all talented enough to give the show a joyful ease, so it feels as if the performers are having just as much fun as the audience.
The set designs by long-time designer Kacey Udy are urban and functional. There's plenty to see in every direction you look; and essentially, because the shows are done in the round, you could see the show multiple times and see a different show each time. Something Hale has added to this new space are rectangular screens above each section of audience. In this case, we see Jack's drawings projected onto the screens, and also drawings of New York, which is another nice touch.
Also worth mentioning are the costume designs by Peggy Willis; the costumes are obviously true to the period but they're also easy to move in; Welch, for example, playing the young reporter, must look smart and dignified but also be able to vigorously dance on a table, which she totally pulls off.
There's also an important message to "Newsies," and that is the power of young people to affect change in the world. The play is a call to arms for the underdog, urging grassroots action to organize, protest and be the catalyst for change.
The HCT will present more than 75 consecutive performances of "Newsies." Performance times are 7:30 p.m., Monday through Saturday, with matinees Saturdays at 12:30 p.m. and 4 p.m. Ticket prices are $40 for adults and $20 for youth ages five through 17. For ticket information call 801-984-9000, go to www.hct.org, or visit the box office at 9900 S. Monroe St., Sandy.