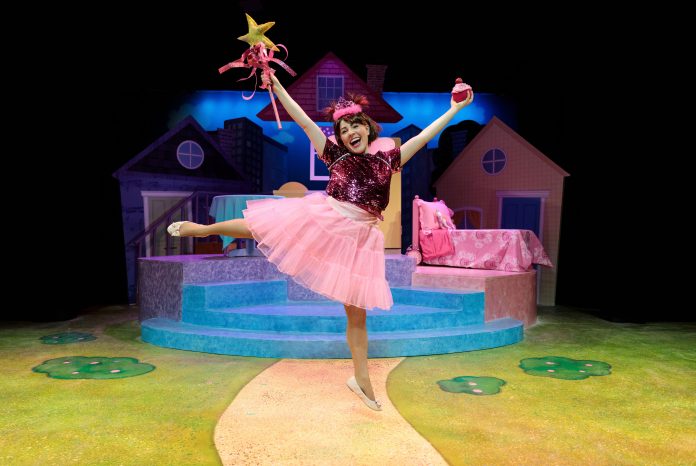 SALT LAKE CITY, Utah, Dec. 9, 2018 (Gephardt Daily) — What do you give to kids that have everything this holiday season?
Well, my advice is to treat them the gift of "Pinkalicious the Musical" at Salt Lake Acting Company; its 10th annual children's production, playing through Dec. 30. My husband and I took our 4-and 8-year-old nieces Saturday and it was truly a joy for both us and them.
Now, I know just about everyone on earth knows who Pinkalicious is, but guess what, I didn't, even though I loooooove pink. Of course now she's my new hero. So, for those not in the know, "Pinkalicious the Musical," based on the book by Victoria and Elizabeth Kann, tells the story of Pinkalicious Pinkerton, a little girl whose love of pink cupcakes finds her in the doctor's office, pink from head to toe! In the musical adaptation by the same authors, with music by John Gregor, the audience gets to meet the whole Pinkerton family, their sassy doctor, Dr. Wink, and Pinkalicious's best friend, Alison.
The show is directed by Penelope Caywood, artistic director of the University of Utah Youth Theatre, returning for her ninth children's production at SLAC. Caywood's genius is that she makes shows come to life that are piles of fun for kids but also keep the grown-ups intrigued from start to finish. Caywood also gently emphasizes the themes of the show — for example, the importance of healthy eating and the joy of embracing who you are — without slowing the action down or appearing didactic.
The show is beautifully cast; a couple of SLAC newcomers, Fiona Hannan and Seth Foster, play Pinkalicious and her brother Peter; both give effervescent performances bubbling with energy and childlike ebullience. SLAC veterans Shannon Musgrave and Alexis Baigue play Pinkalicious and Peter's mom and dad; both nicely portrayed as a little strict and uptight but ultimately kinda cool too. And Micki Martinez, playing various parts including the ultra cheeky Dr. Wink, is quite a showstopper. Everyone except Pinkalicious herself gets to play cute cameos too — I mean really, who among us hasn't yearned at some time to be a giant cupcake, or a jazzy buzzy bee?
The production values are adorable too; Gage Williams designed the set, which kids will be pleased to see exactly replicates the Pinkalicious house and neighboring houses from the book. Shannon McCullock designed the costumes, which manage to take the title character through being various different colors while also having to make ultra quick changes. The props are by Janice Jenson, and let me just say, green food has never looked so pretty. The lights by Jesse Portillo are also lovely. We particularly enjoyed the pink hued disco ball. There are also little touches that every kid (and kid at heart) will enjoy, such as oodles of bubbles cascading from the ceiling at one point.
Each year, SLAC hosts several thousand local children during exclusive student matinees, which provide young children with vital access to the performing arts. It's a nice thought that each of these kids, some of whom have not been to a theater before, will have a special and memorable experience just like we did.
"Pinkalicious the Musical" runs though Dec. 30.  Shows are Saturday and Sunday at noon and 3 p.m., with additional performances Friday, Dec. 21  at 7 p.m.; Wednesday-Friday, Dec. 26-28 at noon and 3 p.m. Tickets are $16 to $26, with discounts available for groups of 10 or more, available by phone at 801-363-7522, or online here. SLAC is at 168 W. 500 North, Salt Lake City.