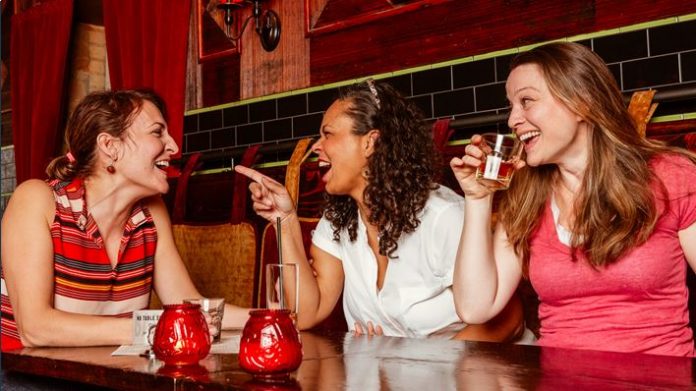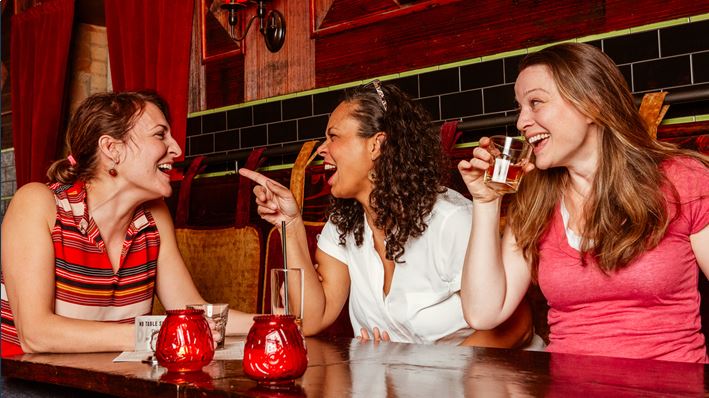 SALT LAKE CITY, Utah, April 4, 2019 (Gephardt Daily) — Pioneer Theatre Company has debuted its grittiest drama of the season in "Sweat," which earned playwright Lynn Nottage a 2017 Pulitzer Prize for drama.
Sandwiched between February's dreamy, plot-light "Once" and May's campy and playful "Grease," "Sweat" is for patrons who like their theater with a little more meat.
The play is set in a blue collar Pennsylvania bar favored by the local factory workers, who order beer to celebrate each other's birthdays and to forget about looming threats that their livelihood will disappear if the factory owners move operations overseas for cheaper labor.
It's already happening at one factory, but the local union members, including Brucie (actor Vince McGill), are hanging tough and refusing financial concessions demanded by owners.
The action jumps between 2000 and 2008, showing a before and after. It starts in 2008, with two former friends, Brucie's son Chris (Hassiem Muhammad), who is black, and his white buddy, Jason (Callum Adams), each meeting with parole officer Evan (Jay Ward) to discuss coping with life after prison.
It then jumps back to 2000, to show happier times in a community of friends and acquaintances, where the town bar was for celebrating birthdays and only light speculation about what might happen should the factories close.
But most of the play, which can be as dark and heavy as it is powerful, is about the niceties stripped away as resources become more scarce. Job rankings divide friends. Race divides acquaintances.
And any poorer person who takes on your job for lower pay is guilty of "eating your lunch."
The bar serves as a societal microcosm of what happens in society when resources are scarce and fear sets in.
A few warnings: Adult language is used throughout, and characters get angry and even violent with each other. On opening night, several people left early, perhaps thinking "Sweat" was about a hot summer or an exercise gym. Who knows?
This production features a strong ensemble cast of nine people. Besides the thoughtful and serious Chris, and his impulsive and shortsighted friend, Jason, there are their mothers, Cynthia (Nafeesa Monroe) and Tracey (Margot White), respectively. Cynthia is kind and ambitious, and Tracey is fun and wild, at least at the start.
The women's drinking and work friend is Jessie (Susanna Florence), a former hippie and heavy drinker. And rounding out the cast are barkeeper Stan (Christopher Duval) and his assistant, Oscar (Xavier Reyes), whose Colombian lineage casts him as an outsider.
In such a strong cast, it's impossible to pick out the stars. Everyone was great. The fully believable in the most challenging roles were Monroe, White, Muhammad, McGill, Duval and Reyes.
Which, of course, is more than half the cast, proving just how hard it is to single out top performers.
Scenic designer Jason Simms created the perfect bar, a character in its own right, sharing interests, tastes and favorite sports teams of its regulars.
Director Mary B. Robinson delivered on the full potential of a gutsy, volatile drama.
"Sweat" continues through April 13 at Pioneer Memorial Theatre, on the University of Utah campus. For more information about the show, the theater and tickets, click here.