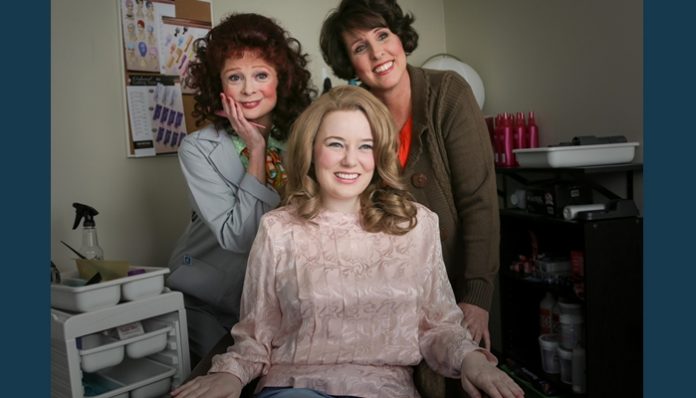 SANDY, Utah, April 9, 2019 (Gephardt Daily) — You know that lovely feeling you get when you go to the hair salon and they wash your hair in hot water and shampoo your scalp and massage your head? That was the feeling I had the whole way through Hale Center Theater's "Steel Magnolias."
It's a warm, soothing, comforting show; I came away feeling like I'd spent the evening with my best girlfriends.
"Steel Magnolias" was written in 10 days in 1985 by Robert Harling and is based on the life of his sister Susan. Unless you've been living under a rock since 1989, when the film version came out, with the screenplay written by Harling, you probably know the plot of the comedy-drama.
The show, which is playing on the Sorenson Legacy Jewel Box Stage at the Mountain American Performing Arts Centre in Sandy through June 1, is about the bond among a group of Southern women in the imaginary town of Chinquapin, in northwest Louisiana.
The play is a little bit different than the film in that it's all set in Truvy Jones' beauty salon; where the film introduces the characters that are referred to in the stage version but we never see.
The show opens on the day of Shelby Eatenton's wedding to her fiancé, Jackson Latcherie. It then covers events spanning the next 18 months, centering on Shelby's Type 1 diabetes and her decision to have a child despite the complications that could result from her condition; wealthy widow Clairee Belcher's friendship with the town curmudgeon Ouiser Boudreaux; Annelle Dupuy-Desoto's transformation from a shy, anxious newcomer in town to a good-time girl then repentant Christian; and Truvy Jones' relationships with the men in her family.
Although the main plot involves Shelby, her mother M'Lynn Eatenton, and Shelby's medical battles, the unwavering bond among all six women is prominent throughout the drama.
Director Larry West scores a double victory with the double cast-show; firstly, it's a veritable who's who of Utah theater heavy-hitters; Michelle Linn Hall, Teri Cowan, Jayne Luke, Brooklynn Pulver Kohler, Tamari Dunbar, Linda Jean Stephenson and Vicki Pugmire. Then there's some newer but very talented faces; some making their HCT debuts; Madison Ford, Amy Ware, DeLayne Bluth Dayton, Serena Collins and Elise Groves Pearce. I am actually planning to see the show for a second time just so I can see the other cast.
The other big victory for West is that the chemistry between the ladies is just gorgeous; we saw the Monday, Wednesday and Friday cast. I watched the vast majority of the show with a big smile on my face; the actresses blithely landed joke after joke, then deftly made the transition to the much more heart-wrenching final scene of the show.
It's really hard to pick out standouts among the cast, since they all really do a great job, but I will say that Cowan (Clairee) and Luke (Ouiser) are a joy to watch, and Hall (Truvy) and Ware (Annelle) are actresses I always look forward to seeing when I know they're in a cast. I hadn't seen Ford (Shelby) or Bluth Dayton (M'Lynn) on stage before. Ford gives a subtle, understated, charming performance, while Bluth Dayton really comes into her own in the second act.
Director West also does a great job keeping the story moving right along, with enough blocking to keep the show fun to watch, since it's all set in one location, but not so much that is seems unfeasible. The show is nicely paced too, so the jokes all land but the action keeps moving nicely. That applies to that last scene, too. It delivers emotionally, but the way it's written makes it clear women don't feel completely comfortable wallowing in sadness; as the title suggests, the female characters are as delicate as magnolias but as tough as steel, with the grit to keep moving forward whatever the circumstances.
And as always at Hale, the production values are just stunning. The set, by Jenn Stapley Taylor, depicts a very, very '80s beauty salon, with salon chairs down downstage and a little sitting area with windows at the back. The salon is utterly feminine, with loads of florals and knick-knacks, and it's decorated with seasonal accoutrements depending on the season. There's even Patrick Nagel-style art on the walls; you know those bold illustrations of women with black hair and red lips that everyone had on their walls back in the day? It looks like a place you could spend many hours in gossiping happily, which apparently the women do.
The other production elements are kept fairly simple, probably so the visual components don't become overwhelming. The lighting design, by Danna Barney and costumes, by Tracy Jean Graham, are fairy understated, though Graham has some fun with accessories, some of which are supposed to be made by the artsy-crafty Annelle. The hair and make-up designer, Candice Cronin, definitely goes to town with the big hair of the late '80s south. On the subject of hair, it's also worth mentioning that the actors that are required to actually do hair in the salon, namely Hall and Ware, absolutely convinced me that they were professionals. Hall does a swept-up wedding coif for Ford as Shelby, with masses of baby's breath, while M'Lynn gets rollers and a comb-out from Ware as Annelle.
The Hale will present more than 75 consecutive performances of "Steel Magnolias." Performance times are 7:30 p.m., Monday through Saturday, and matinees are Saturdays at 12:30 p.m. and 4 p.m. The theater has also added some additional performances; check the website for details. No children under the age of 5 are permitted in the theater.
Ticket prices are $36-48 for adults and $18-24 for youth ages five through 17. For ticket information call 801-984-9000, click here, or visit the box office at 9900 S. Monroe Street in Sandy.
Though the show is mostly sold out through April, there's some availability in May; I would highly recommend going. It's a show that makes you feel uplifted in these tumultuous times.