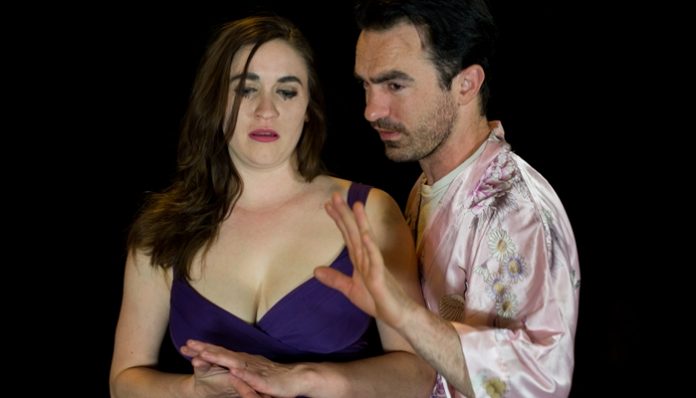 SALT LAKE CITY, Utah, June 4, 2019 (Gephardt Daily) — "Don't be afraid; people are so afraid. Don't be afraid to live in the raw wind, naked, alone." — Roy Cohn.
This quote from "Angels in America: Part One: Millennium Approaches," pretty much sums up, in a positive way, what it feels like to watch the play.
The piece premiered in May 1991, and takes place in 1985 and 1986, but with its story lines of twisted politics, LGBT+ issues, the AIDS crisis and pill addiction, it's just as relevant today, maybe even more so.
The more challenging elements of the culture of The Church of Jesus Christ of Latter-day Saints also take center stage, with scenes that take place in Salt Lake City and a central plotline of a young husband struggling with a big secret.
It's also being produced in this case during Pride Month, which coincides this year with the 50th anniversary of the Stonewall Rebellion.
It's a brave step for a smaller theater company such as Utah Repertory Theater to stage Tony Kushner's sweeping masterpiece, which has been honored with a Pulitzer Prize for Drama and the Tony Award for Best Play. Before debuting on Broadway in 1993, it opened in London at the National Theatre, and was rebooted there in 2017, with a cast that included Andrew Garfield as Prior Walter and Nathan Lane as Cohn.
In February 2018, the 2017 National Theatre production transferred to Broadway for an 18-week engagement. In 2003, HBO Films created a miniseries version of the play. The adaptation won both the Golden Globe and Emmy for Best Miniseries; the lead cast includes Al Pacino, Meryl Streep, Emma Thompson, Patrick Wilson and Mary-Louise Parker.
I mean, really, how do you follow that legacy? Well guess what, Utah Rep's production at the Rose Wagner Performing Arts Center truly shines. The company's artistic director JayC Stoddard, who directs the play, really pares down the performances and the production values to present a truly exposed, brave, stark production which at the same time pulsates with so much heart.
Stoddard has cast the show cleverly with Utah theater heavy hitters alongside some fresh new faces that it's a joy to see. The former group includes Andrew Maizner as Cohn, Anne Louise Brings as Harper Pitt and Jesse Nepivoda as Prior. All three make bold, exciting, raw choices; it's clear Stoddard is the type of director that really empowers his actors.
Nepivoda, a relatively recent transplant to Utah, particularly captures the rainbow of colors that make up Prior; we see droplets of the sunny, bright yellow he probably used to be, but as the play goes on, he is increasingly taken over by a dark, frightening, bleak indigo that threatens to engulf him.
It's always a pleasure to see new faces at Utah Rep. too. Lucas Stewart as Joe Pitt turns in a strong performance; Stewart plays him as wholesome and so dedicated to being good at his career and his home life, but crumbling internally as he wrestles with who he really is. Josh Tewell as Louis is making his Utah acting debut; he plays Prior's partner, a young, progressive, Jewish New Yorker. Louis is not an easy character; he is intensely verbose and he also makes a decision about Prior that could easily make him reprehensible; and yet Tewell has managed to unpack Louis' difficult journey and make him both sympathetic and likable.
Dee Tua'one as Belize, the ex-drag queen and a hospital nurse, brings a wonderful calm energy to the character; he needs to keep that vibe, but just up the volume a little. The Rose Wagner Studio is a small theater but absorbs noise a little more than you would think, particularly with a large house.
Whitney Black and Liz Whittaker both do a good job with numerous smaller roles.
The staging of the piece is exactly as Kushner apparently envisioned. In his notes about staging, he wrote: "The plays benefit from a pared-down style of presentation, with scenery kept to an evocative and informative minimum. … I recommend rapid scene shifts (no blackouts!), employing the cast as well as stagehands in shifting the scene. This must be an actor-driven event. … The moments of magic … are to be fully imagined and realized, as wonderful theatrical illusions — which means it's OK if the wires show, and maybe it's good that they do…."
Kushner is an admirer of Brecht, who practiced a style of theatrical production whereby audiences are often reminded that they are in a theater.
The scenic design, by the talented Cara Pomeroy, lighting design, by Jacob Hunt, and sound design, by Katelyn Limber, all adhere to this concept; all are pared down and relatively simple, but are used to great effect when necessary.
I would have liked to have seen the reveal of the Angel at the end of the play be a more dramatic moment. It felt like a little bit of an anti-climax. And I don't mean that it needed to be a bigger budget moment; I like the idea of actually having an "angel designer;" perhaps even a visual artist or graffiti artist that could paint wings on the back set wall that could then be turned around so they were behind the Angel; just something to make final moment of the play bigger, more breathtaking, in a way more worthy of what had gone before.
A couple of things of note: the play is a little over three hours with two 10-minute intermissions. I was completely absorbed throughout, but I do recommend taking snacks and water to have between the acts.
Also, the second part of "Angels," called "Perestroika," will be produced by the same cast and creative team next year, which is fantastic and I can't wait to see it.
"Angels in America" runs through June 9 at the Rose Wagner, 138 W. Broadway (300 South). The show plays Thursday, Friday and Saturday at 7 p.m. and Sunday at 2 p.m. Tickets are $20, at 801.355.ARTS or by clicking here.