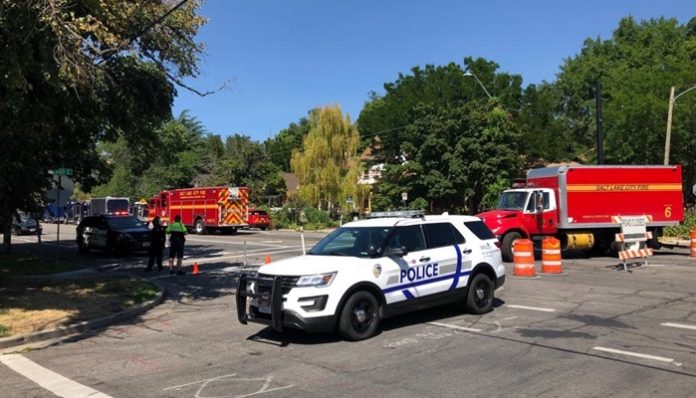 SALT LAKE CITY, Utah, Aug. 14, 2019 (Gephardt Daily) — Roads have reopened in the downtown Salt Lake City area Wednesday afternoon after what police are calling a "suspicious package" was found.
"The suspicious package was rendered safe," said a tweet from the Salt Lake City Police Department at 4:40 p.m. "Investigation into the package is ongoing. Anyone who was evacuated can return to their homes. All roads are now open. Thank you for your cooperation."
Salt Lake City Police Department Detective Michael Ruff said the package was found outside Valley Behavioral Health building at 280 E. 600 South at approximately 2:30 p.m., and that building was evacuated. Another building adjacent to Valley Behavioral Health, at 303 E. 600 South, was also evacuated, he said.
"We have our personnel inspecting that and determining what they need to do if it is something that concerns them," Ruff said before the package was rendered safe. "It's a container of some sort, I don't have a specific description of what it is at this point."
Ruff said that 300 East was closed from 500 South to 700 South, and 600 South was closed from 200 East to 400 East.
Utah Transit Authority buses and Valley Behavioral Health vans were used to keep the occupants of those buildings out of the heat, he said.
The suspicious package is the second found in as many days.
Tuesday morning, a package was found outside the ACLU at 355 N. 300 West just after 11 a.m., Salt Lake City Police Department Detective Greg Wilking told Gephardt Daily.
Wilking said that units arrived on scene and blocked off traffic in the area for safety reasons.
He said the package did not look like anything staff were familiar with or expecting and was not dropped off in a manner that was familiar to them, so they called officials. Wilking said the package was left just outside the front door. He said it was a fairly nondescript package without markings.
ACLU staff were evacuated from the building.
All roads in the area were reopened by early Tuesday afternoon.
Wilking said in an update the package turned out to be papers of some sort.
"There are times when the ACLU does receive threats and so they take these precautions and take these things seriously," Wilking added. "We're thankful that this was not a device of any sort, that it was just papers."
Gephardt Daily will have more on this developing story as information is made available.