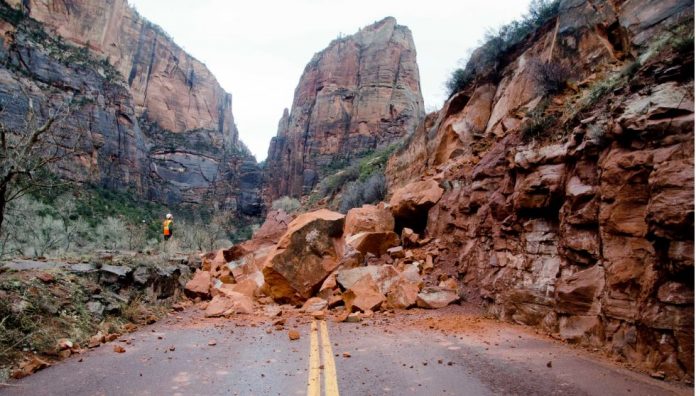 SPRINGDALE, Utah, Jan. 19, 2017 (Gephardt Daily) — The Zion Scenic Drive has reopened after a rockslide in Zion National Park nearly a week ago.
At approximately 6 p.m. Friday, the slide occurred just north of the Grotto, covering both lanes on Scenic Drive. The slide was about the size of four car lengths, and displaced approximately 200 tons of rock and debris.
Late Saturday evening, the park tweeted Scenic Drive had reopened from Canyon Junction to Zion Lodge.
The park updated Thursday that the road has completely reopened, but that the park and the surrounding areas are expecting snow over the next four days. Park officials have asked visitors to plan accordingly.
Crews used fire hoses aimed at the bottom of the rocks to assist in clearing the slide.
No one was injured in the incident.
At the time of the slide, 12 vehicles were on the opposite side of the slide, according to a statement from Zion National Park. In collaboration with Zion Lodge personnel, all parties but one were shuttled to their hotels. The remaining party chose to remain with the vehicle, and was evacuated Saturday.
Road crews and geologists allowed the area to dry out and assessed the damage before removing the debris, making repairs, and reopening the roadway.