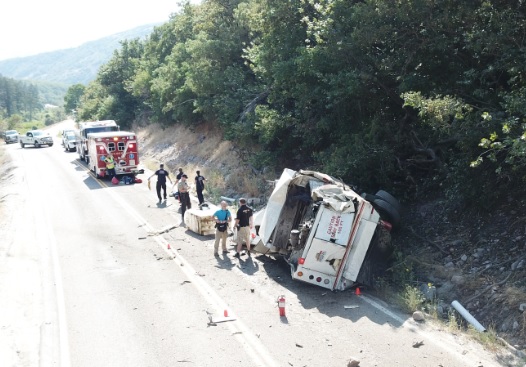 WEBER COUNTY, Utah, Aug. 16, 2018 (Gephardt Daily) — A 38-year-old Roy man was killed Thursday afternoon when the brakes on the street sweeper he was driving appeared to fail, causing it to roll down a steep embankment near 5200 N. Powder Mountain Rd. in Weber County.
According to eyewitnesses, the street sweeper was seen speeding down the steeply graded mountain road about 3:15 p.m.
Moments later the driver lost control of the vehicle as it drifted off the road and tumbled down the hillside.
Weber County Sheriff's Lt. Matt Jensen reported the driver — whose name has yet to be released — was ejected in the crash.
A medical helicopter was called in to evacuate the driver, but he was pronounced dead at the scene.
Weber County sheriff's investigators have yet to determine if indeed brake failure played a role in the crash.
Gephardt Daily will update the story, including the driver's identity, as more information becomes available.