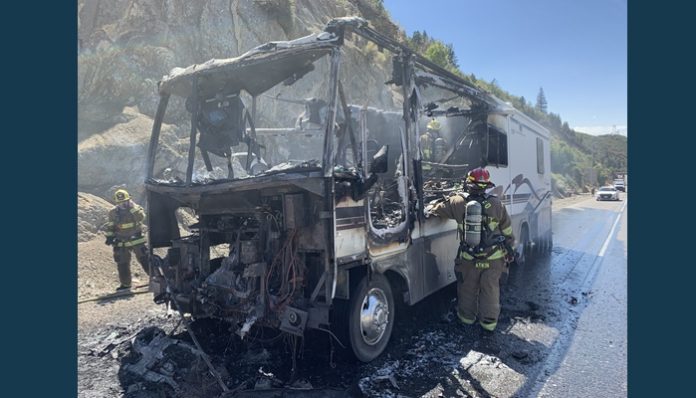 SALT LAKE COUNTY, Utah, Sept. 2, 2019 (Gephardt Daily) — A motorhome fire on eastbound Interstate 80 delayed drivers in Parleys Canyon Monday afternoon.
A news release from the Utah Highway Patrol said that at approximately 1:20 p.m., a motorhome was traveling on I-80 eastbound near mile marker 133.
"The driver, a 37-year-old female from Winter Park, Colorado, and one other occupant observed an odd smell and smoke coming from the floor boards," the news release said. "The driver pulled the motorhome in the right shoulder where the motorhome became on fire. Shortly after the driver compartment became fully engulfed with fire."
No occupants of the motorhome were injured.
Unified Fire Authority arrived on scene and took the right two lanes of the three. A blue Scion XB, SUV was traveling through the closure in the far left lane. The driver, a 21-year-old woman from Murray, was looking in her blind spot when she left her lane and rear ended the fire truck, officials said.
"There was a firefighter standing on the back pulling hose," the news release said. "The firefighter was not injured but was a close call."
The female driver of the SUV had sustained minor injuries but was not transported.
Gephardt Daily will have more on this developing story as information is made available.